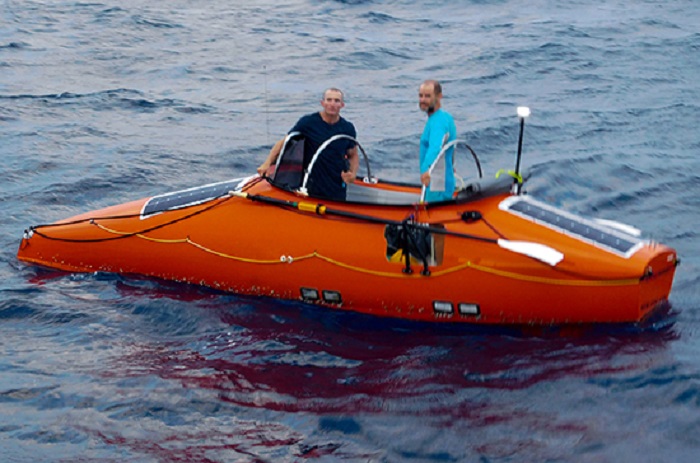 Sri Lanka Navy, in coordination with the Maritime Rescue Coordination Centre (MRCC) Colombo, rendered assistance to bring ashore a non-motorised pleasure craft that was in distress off the southern coast on Thursday, 2nd March 2023.
The Navy said in a statement that the pleasure craft 'Little Donkey', a New Zealand-flagged vessel was on a marine research mission when it developed an issue with its propulsion system. Accordingly, the craft with two foreign crew members aboard was safely towed to the Port of Hambantota to fix the issue.
MRCC Colombo, established at the Navy Headquarters, remains ever-alert and coordinates proceedings when responding to maritime distresses faced by naval and fishing communities in the Search and Rescue Region (SRR) of Sri Lanka.
The pleasure craft with two crew members is reported to have developed a defect in its pedal-based rowing system whilst crossing the Bay of Bengal from Thailand, to collect high-quality microbiological samples for DNA analysis to support some research work. The craft was in distress in the SRR of Sri Lanka off the southern coast, when a distress message was disseminated to MRCC Colombo by the local agents on 02nd March, requesting the towing assistance from the Sri Lanka Navy to bring the craft ashore for repairs.
At the directives of Commander of the Navy, Vice Admiral Priyantha Perera, the Navy rushed a Fast Attack Craft P 483 of the 04th Fast Attack Flotilla in the Southern Naval Command to the sea area where the craft was in distress. Subsequently, P 483 set about towing the beleaguered craft with two crew members to the Port of Hambantota for much-needed repairs.
The Sri Lanka Navy stated that MRCC Colombo at the Navy Headquarters coordinates and oversees maritime search and rescue (SAR) operations in its designated area of responsibility, in coordination with MRCCs in the region. In the year 2022, MRCC Colombo played a critical role in ensuring the safety of mariners and vessels at sea by providing timely and effective SAR response and support services to 35 foreign craft and vessels. (NewsWire)