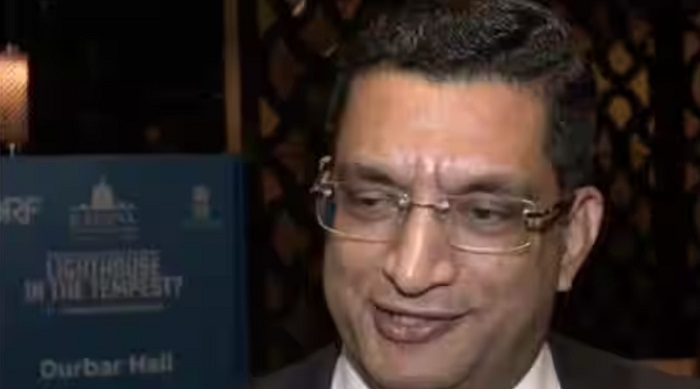 Sri Lanka won't allow any country to make the island a hub for anything harmful to India's national security, Sri Lankan foreign minister MUM Ali Sabry has said in the wake of bilateral ties taking a hit after a Chinese surveillance ship visited Hambantota port last year.
In the context of strained India-China relations, Sabry said Sri Lanka wants to balance things to ensure peace. He lauded India's role in helping Sri Lanka cope with an unprecedented economic crisis and said that his government plans to work more closely with New Delhi to bolster recovery, including a proposal for payments in national currencies.
Asked about the fallout of China's Yuan Wang 5 vessel visiting Hambantota and external affairs minister S Jaishankar's trip to Colombo, which is seen as an effort to reset ties, Sabry said, "We managed to talk [things] through and we have made it very clear we will not allow any country to make Sri Lanka a hub…to do anything which will be harmful for India's national security."
He added, "India's relationship is one of the most, if not the most, important relationships in our foreign policy because of the size of the economy, the neighbourhood, the kind of things we share with each other."
Pointing to the large volume of India-China trade despite border tensions, Sabry said Sri Lanka wants to work with everyone but will not allow India's legitimate security or other interests to be undermined "under the guise of anything".
Sabry dispelled the impression that smaller countries are being forced to choose between India and China and said, "We also must be smart enough to understand what is commerce, what is political interest, what is security threat…They will probably want to put their fingers in, but it cannot undermine somebody else's [interests], particularly your neighbour's and a neighbour who had been with us through thick and thin."
Pointing to India's key role in providing assurances to the International Monetary Fund (IMF) for restructuring bilateral credit, Sabry said a letter provided by China on cooperating for Colombo's Extended Fund Facility (EFF) application is "not compatible with what IMF wants." He was hopeful a solution to the IMF bailout package will be clinched this month.
Sabry outlined proposals for closer cooperation with India to drive Sri Lanka's economic recovery, including an arrangement for payments in national currencies, energy linkages to transfer wind and solar power from Sri Lanka to India, and further development of the Trincomalee oil farm.
"We want to integrate and probably allow Indian currency to be a tradeable currency in Sri Lanka so that more Indians could come and use it, and Sri Lankans could use it without depending on third currencies," Sabry said.
Sri Lanka and an Indian Oil Corporation subsidiary signed agreements last year to refurbish the oil storage facility at Trincomalee with a capacity of one million tonnes which could be developed as an energy hub for storage and refining, Sabry said.
Sabry also spoke about efforts to devolve powers to Sri Lanka's Tamil minority against the backdrop of India's calls for implementing the 13th amendment to the Constitution and early conduct of provincial elections. Besides replacing the Prevention of Terrorism Act (PTA), Sri Lanka wants to put in place an accountability mechanism to deal with human rights issues from the civil war.
"Tamils need to feel they are also part of our country. A dignified environment needs to be built for them and we have done a lot of work," Sabry said, adding, "This is why it's important [and] we need to go for devolution. It's important for us."
He spoke of a three-pronged approach that includes devolution of power, accountability on a "Sri Lankan model within the contours of the Sri Lankan Constitution", and executive actions like releasing Tamil lands. (Hindustan Times)