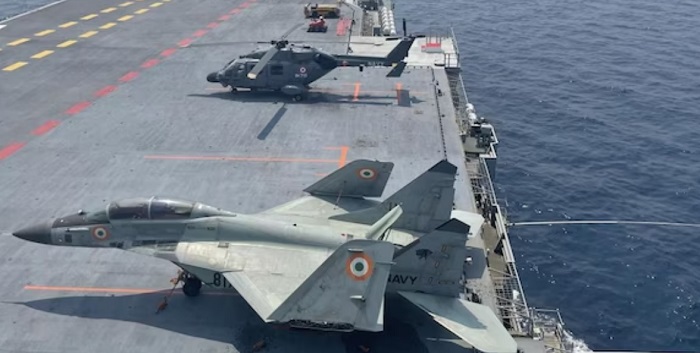 A rugged MiG 29K fighter jet roars on the deck of INS Vikrant, all set for a take-off as India's first indigenous aircraft carrier sails in the high seas, 80 km from Goa's coast in the Arabian Sea, getting combat ready.
Within seconds, the fighter aircraft zooms past the short runway and the ski jump and takes off, manoeuvring over the deep waters.
Next, the indigenous Light Combat Aircraft, LCA Navy, lands on the aircraft carrier. While the Indian Air Force has LCA in its fleet fully operational, the naval version is being used for training and exercises.
After a 15-minute sortie, the MiG29 K is back, hitting the deck hard. In between, several helicopters land and take off, keeping the flight deck personnel on their toes under the harsh sun.
These have been the usual drills in the air trials on INS Vikrant that started in November 2022.
The aircraft carrier can accommodate up to 30 aircraft, 18 fighters, and helicopters. Currently, there are three MiG29 K fighter jets along with Advanced Light Helicopters onboard. The Light Combat Aircraft has been making landings as well.
Kamov and newly inducted helicopters from the US MH 60 Romeo will also be operating from the carrier. MH60 Romeos are lethal in anti-submarine warfare
By the end of May 2023, the warship should be fully ready for air combat.
A full demonstration of the Navy's firepower was showcased as Vikrant sailed with a fleet of 17 warships– destroyers, frigates corevettes Al carrying out firing drills.
The first day of the Naval Commanders' Conference, being held from March 6 to March 13, was onboard Vikrant attended by Defence Minister Rajnath Singh.
Vikrant, India's largest warship that has a capacity to displace 43,000 tonnes, is buzzing with activity with 1600 personnel onboard and has been sailing at full capacity.
The ship has a maximum designed speed of 28 Knots with endurance of 7500 NM. It has around 2200 compartments, designed for a crew of around 1600.
Since it was commissioned last September, INS Vikrant has been going out to the sea, accompanied by other warships. The entry of INS Vikrant was a massive boost to the Indian Navy's naval firepower.
Now, two aircraft carriers will operate simultaneously, an addition to INS Vikramaditya.
Vikrant sailing, but Navy needs more
INS Vikrant is up and sailing but the Indian Navy is pushing for another one. A second indigenous aircraft carrier that will ensure the Navy has three of them. If one goes into maintenance, the other two are always available on both coasts.
Indian Navy Chief Admiral R Hari Kumar says Vikrant is a shining example of atmanirbharta (self reliance). "Out of 43 ships planned for the Indian Navy, 41 are to be made in India," he said.
The Indian Navy inducted its first indigenous aircraft carrier, INS Vikrant, last year.
With an aircraft carrier of its own, India is now part of a select band of seven countries— USA, UK, France, Russia, Italy and China— that have niche capabilities of designing and building an aircraft carrier.
Sources say the Indian Navy has prepared a case to be presented to the government for another aircraft carrier. The Indian Navy has been insisting on a second indigenous aircraft carrier in the wake of the Chinese forays in the Indian Ocean Region.
But, the Navy ideally wanted a superior carrier as the second indigenous one with the proposed name INS Vishal, which simply means 'massive'.
It was expected to be a 65,000-tonne warship with a capacity to accommodate more aircraft onboard, but that is on hold due to budget constraints.
Instead, the navy has come up with an idea to have another carrier at reduced costs, but they are in no mood to let go of the expertise available after Vikrant and cause any further delays.
The Navy estimated Rs 50,000 crore as a life cycle cost for a superior carrier. Otherwise, the cost would be Rs 35,000 crore, which was also on the higher side. Vikrant cost Rs 20,000 crore.
A repeat order of Vikrant is what the Navy is now pushing for to make sure there are three aircraft carriers.
More fighter jets need of the hour
LCA Navy has been in action at INS Vikrant. It's been carrying out sorties since the carrier started aircraft trials.
But the desi fighter jet will not be part of combat operations for the navy's carriers.
Navy chief Admrial R Hari Kumar said the focus is on twin engine deck-based fighter as many lessons have been learnt from LCA Navy
"The first prototype of the indigenous Twin Engine Deck-Based Fighter would be ready by 2026 and the induction expected by 2032," he said.
The Indian Navy doesn't want any further delays in acquiring 26 new fighter aircraft to add to its fleet. With two aircraft carriers, the navy wants to enhance its fighter fleet.
Its current fleet of 40 plus MiG 29 K aircraft that will operate from the two carriers will also need replacement at some point of time. With 18-20 aircraft operating from each carrier, if a third one indeed gets a go-ahead, surely more fighters would be needed, officials said.
The MiG 29 Ks were inducted in 2010 and the first squadron commissioned in 2013 to operate from INS Vikramaditya.
The Indian Navy required 57 planes for operations on both the carriers, but the requirement was cut short by more than half in support of indigenous planes.
For the 26 fighters, the contest is between the French Rafale and the US's Super Hornet. "It is in process. We have taken it up with the government," Indian Navy Chief R Hari Kumar said.
Both the aircraft have undergone trials and the navy is hopeful the procurement will be expedited. (India Today)