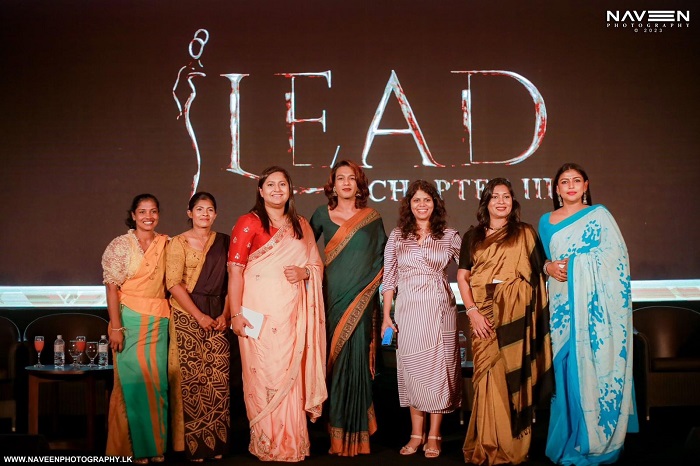 The third chapter of iLead – an International Women's Day event jointly organised by NextGenSL and the Friedrich Naumann Foundation for Freedom – was held at Galle Face Hotel, Colombo, on Friday.

The event was organised for the third consecutive year and it featured eight prominent women from diverse industries and sectors. They were given the opportunity to speak for eight minutes on "what they would do differently if they were given the opportunity to lead the country".

The eight women featured at the panel event were Sabrina Esufally, Managing
Director, Hemas Consumer Brands, Suhani Kariyawasam Pathirana, Vice President, Vice President of the Sri Lanka Central Federation of the Deaf, Oshadhi Ranasinghe, Vice Captain of the Sri Lanka Women's Cricket team, Bhoomi Harendran from the National Transgender Network Trust, Dr. Shemoon Marleen, Consultant Obstetrician and Gynecologist, Chani Imbulgoda, Deputy Registrar of the University of Visual and Performing Arts, Dinusha Jayamanne, the General Manager Human Resources at Brandix and Niranjani Shanmugaraja, Actress and media personality.

Sabrina Esufally, opening the forum, stressed the need for better budgetary allocations for education, increasing female labour participation, government expenditure reduction and policy reforms for State Owned Enterprises (SOEs).

Suhani Kariyawasam Patrhirana, who shared her views representing the differently-abled population, highlighted the need for equal access to education for her community, which would, in return, give them ample opportunities to contribute to the economic growth of the country.

Oshadhi Ranasinghe, one of the prominent sports personalities in Sri Lanka, stressed the importance of enhancing the sports sector through enhanced female participation. In her speech, she focused on the importance of implementing social security measures for sportswomen as it would encourage more women to pursue their prospects in the sports arena.

The highlight of Bhoomi Harendran's speech was the need for creating an inclusive society where differences and diversity are embraced. She said one's sexual orientation should not be a measure to determine how that person is treated in society. She spoke of standing for humanity which will usher in a better and safer future for all.

Dr. Marleen spoke for fair reproductive health and creating a culture of family planning in Sri Lanka while Imbulgoda expressed her views on addressing critical issues such as process and system development in the country, how technocrats, experts and professionals should be brought in to manage Sri Lanka.

Jayamanne, a vastly experienced professional in the human resource management, talked about digital education for all and ensuring financial stability for women – a key component of Sri Lanka's apparel sector.

Niranjani Shanmugaraja, an award-winning actress, talked about measures to create an empowered nation. "Reconciliation cannot be achieved by mere words or pledges. It can only be achieved through action. Action speaks louder than words. I would like to ask this audience if they truly want to elect a person like me – a Tamil woman hailing from a normal family – as the President of Sri Lanka," she asked.

Wolfgang Heinze, the Country Head of Friedrich Naumann  Foundation for Freedom in Sri Lanka, said  the main objective of the event was to demonstrate the manner in which women will lead if given access to decision-making platforms and adequate opportunities in governance. Delivering the closing remarks, NextGenSL core team member Lihini Fernando said the event would convince the key decision-makers as to why there should be measures to meaningfully address the underrepresentation of women in politics.

A number of young political figures from the main political parties are currently working with NextGenSL in various capacities and its main objective is to drive positive youth engagement in politics and work towards addressing challenges that prevent young people — both men and women — from actively engaging in politics. It also seeks to facilitate a healthy political culture and an inclusive platform where diverse political views could be discussed in an amicable manner.