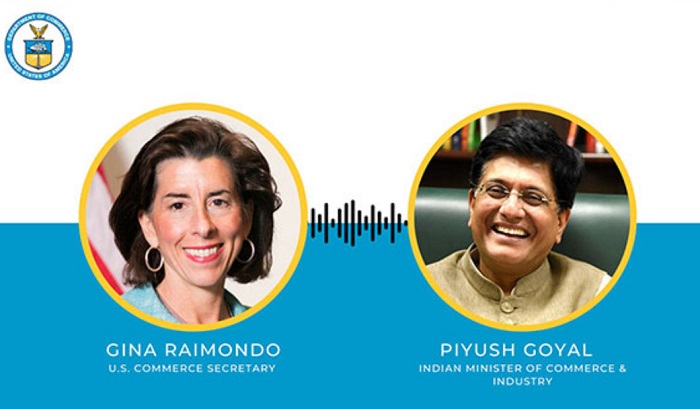 US Secretary of Commerce Gina Raimondo, India's Union Commerce Minister Piyush Goyal in a virtual meeting on Monday discussed the US, India shared interest in maximizing progress on the Indo-Pacific Economic Framework for Prosperity (IPEF), according to a release by the US Department of Commerce.
This comes as negotiators continue working towards achieving ambitious and high-standard outcomes ahead of the May round of negotiations, which will take place in Singapore.
Secretary Raimondo thanked Minister Goyal and the Indian government for its ongoing contributions and strong support for IPEF, according to the release.
Raimondo recently said Prime Minister Narendra Modi is the most popular leader and is a visionary, adding that his commitment to the people of India is "indescribable".
Addressing the Reception at India House, which was hosted by Indian Ambassador Taranjit Singh Sandhu, Raimondo said, "I had an incredible opportunity to spend more than an hour and a half with Prime Minister Modi, who is I don't need to tell anyone here who he is. He is the most popular world leader for a reason. He is an unbelievable visionary. And his level of commitment to the people of India is just indescribable and deep and passionate and real and authentic."
"And his desire to lift people out of poverty and move India forward as a global power is real and it is happening. But the best part of the meeting for me was this, anyone who knows Prime Minister Modi, all of you, knows he is a tech guy and he is deep into the details. So I found myself at his home at 7:30 on a Friday night, talking about the details of radio access networks and artificial intelligence. And it was just amazing," she added. (ANI)