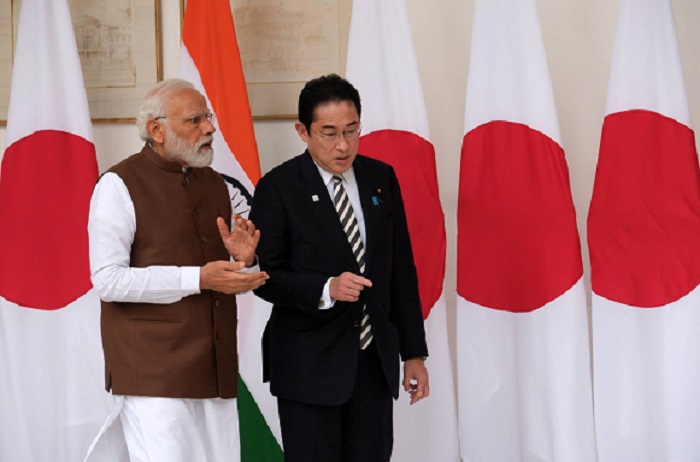 When leaders from the Group of Seven nations gather for a three-day summit in Hiroshima later this month, they will be joined by a unique contingent of eight other leaders for an exercise in global diplomacy.
While Prime Minister Fumio Kishida's decision to invite these countries — including India, South Korea, Brazil and Australia — will see G7 leaders discuss pressing international issues such as climate change and food security, other goals will also be at play: namely pushing back against Russia and China.
The G7 nations have become increasingly aware of the need to step up cooperation with emerging and developing countries, to forge a united international front on issues such as Beijing's rising assertiveness and Moscow's ongoing invasion of Ukraine.
Efforts to tackle the latter made headlines last week, when the Financial Times reported that, as part of pre-summit negotiations, Washington suggested replacing the current sector-by-sector sanctions regime against Russia with an almost complete export ban. The proposal was reportedly deemed "not doable" by Japan and European countries.
The move points to growing frustration in the U.S. as Russia continues to import Western technology to support its war in Ukraine, due to loopholes in the current sanctions regime.
But with neither Moscow nor Kyiv expecting a decisive battlefield victory anytime soon, broader international support will be required if Russia is to be sanctioned into submission and forced to withdraw its troops.
This became clear when Moscow said in February that the Russian economy had performed much better than expected last year, contracting only by about 2%, as it benefited from higher energy export prices, increased military spending and redirected trade flows through countries that did not join the sanctions regime — mainly China, India and Turkey.
Closing loopholes
To strengthen support for Ukraine while increasing the effectiveness of sanctions on Russia, G7 leaders understand it is crucial to get as many "Global South" countries on board as possible — especially India, which currently holds the G20 presidency, and Indonesia, this year's chair of the Association of Southeast Asian Nations.
The term Global South refers to a loose grouping of roughly 100 nations, many developing and nonaligned with any major power. These include the four other countries invited to take part at the Hiroshima summit: Indonesia, Comoros, Vietnam and the Cook Islands.
At a G7 foreign ministers' meeting last month, the bloc pledged "intensifying" sanctions on Russia while also vowing to tighten loopholes via closer cooperation with Global South countries. This will be crucial since the G7's total share of world gross domestic product has dropped from slightly over 50% in 1990 to just under 30% this year, according to the IMF.
Most Global South nations have not joined the West in imposing sanctions on Russia — particularly considering the damaging knock-on effects the war has had on global food and energy prices. Many have also avoided taking sides in the growing U.S.-China rivalry, seeing benefits in relationships with both and being less concerned about a U.S.-led international order.
This means that winning their support might be a tall order unless substantial incentives or highly compelling arguments are offered.
Of importance in dealing with Russia will be Brazil — South America's largest economy — whose president, Luiz Inacio Lula da Silva, has been criticized by the West for calling for a shift away from dollar-denominated trade and accusing Washington of prolonging the war by continuing to supply weapons to Ukraine.
The summit will also focus on preventing third-party weapons from being supplied to Russia, a move seen as a warning to China and others such as Iran against closer cooperation with Moscow.
Addressing Chinese expansion
Besides weakening Moscow, a top priority for G7 leaders will be to rally support among the eight invited countries in counterbalancing China, which is increasingly perceived as posing a "strategic challenge" to the region and beyond.
Efforts to slow down China's technological rise, deter military aggression and boost support for democratic Taiwan are expected to feature prominently at the summit.
These efforts, including redirecting supply chains via India, Vietnam or Indonesia, are likely to play a key role in discussions about trade, economic security and resilience, trade as well as foreign and security policy.
China's expanding nuclear arsenal will also feature in talks about nuclear disarmament and nonproliferation. This comes amid a rapidly intensifying geopolitical rivalry between China and the U.S. that many fear could result in a new type of Cold War, and possibly even veer into armed conflict.
While the West accuses China of trying to undermine the rules-based international order, Beijing accuses the West of seeking to encircle China and trying to contain and suppress its development.
As relations continue to deteriorate, experts such as Bucknell University professor Zhiqun Zhu argue that the upcoming summit will offer the G7 an opportunity to pull countries out of China's orbit.
Without a doubt, he said, "a major purpose of inviting these nations is to have them on board in a joint effort to push back against China's growing influence."
Zhu said that from Washington's perspective, some of these countries, such as Brazil, are getting too close to Beijing or still rely too heavily on trade with China, which is why it is in America's interest to drive a wedge between them and China.
Diversifying supply chains
So why were these countries selected?
No official explanation has emerged as to why these eight countries were invited and not others, though analysts have offered a few takes.
For instance, Australia and South Korea are key U.S. allies in the Asia-Pacific. Although China is their largest trading partner, they are expected to uphold the G7's vision of a rules-based order.
India, a member of both the BRICS and "the Quad" groupings, is a major security and economic player in the Indo-Pacific, and also China's neighbor to the West. Indonesia, meanwhile, is not only Southeast Asia's largest economy but also the world's largest Muslim majority country, whose actions can shape broader regional dynamics and offer a religious-inclusion perspective.
"Both India and Indonesia are democracies, so the G7 would want to have a good working relationship with them," said Ian Chong, a professor of political science at the National University of Singapore. As chairs of the G20 and ASEAN groupings, respectively, they are also in a unique position to shape and push the Global South agenda.
Vietnam, which also borders China, is a key focus for the G7, as Southeast Asia becomes a key area for Sino-U.S. competition. Hanoi has strong economic ties with China, but it also has a complex political relationship with Beijing.
The country is becoming more attractive for G7 members as a strategic partner based on its stable governance, its willingness to push back against China and its presentation as an alternative for manufacturing and industry.
"Alongside Brazil, these countries can help alleviate the West's supply chain concerns and assist with diversification and de-risking from any one part of the world," Chong said, adding that except for South Korea, they provide access to different natural resources and commodities. Most also have a sizable low-cost labor force.
And as tensions with China escalate, "strengthening and diversifying supply chains is key," said Guy Boekenstein, an Indo-Pacific adviser to the Australian Strategic Policy Institute. This is particularly important around critical minerals, rare earth elements, critical and emerging technologies and fuel and renewable energy sources, he added.
As for the small Cook Islands in the South Pacific, they were probably selected as they represent an area of contention between China on one side and the U.S., Australia, and New Zealand on the other, Chong said.
These islands, along with Comoros in the Indian Ocean, are also among the most affected by climate change, specifically sea level rise, so including them helps the G7 push their climate agenda.
An uphill battle
The challenge, however, is whether the invited countries will side with the G7 as they will want to maintain strong and productive relations with Beijing.
"Some of them have flourishing economic relations with China, such as Vietnam and the Cook Islands, even if their security partnerships are elsewhere," said Rafiq Dossani, director of the Center for Asia Pacific Policy at the U.S.-based Rand Corp., noting that the G7 would have to provide alternatives to offset potential losses.
"Indonesia, lacking a significant security relationship with the U.S. but with a strong economic relationship with China, seems to have the most to lose," he added.
India, meanwhile, has been pursuing a path of "strategic autonomy" and multilateralism and has close military ties with Russia.
Besides making their economies more resilient, a key aim of having various options and partnerships is to discourage Beijing from changing the status quo by force, as the region sees a rapid military build-up amid concerns over a possible Chinese invasion of Taiwan.
The big question, however, is whether such efforts will deter Beijing or prompt escalation, Chong said.
"The calibration of credible threats and assurance must be just right for deterrence to work." (Japan Times)