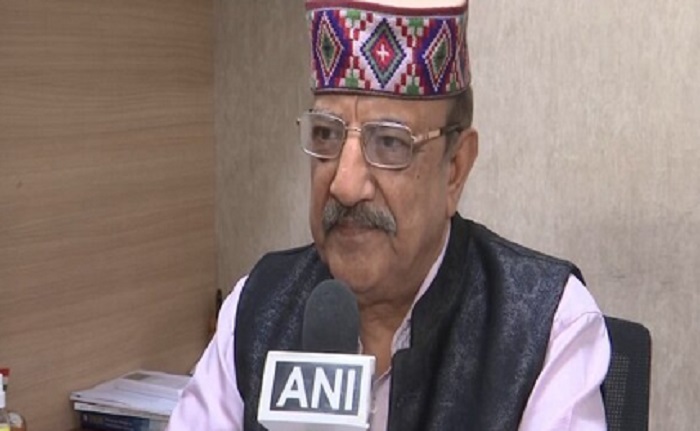 Defence expert Dhruv Katoch on Wednesday said that the visit of Pakistan Foreign Minister Bilawal Bhutto-Zardari to India, for the Shanghai Cooperation Organisation (SCO) Foreign Ministers' meeting, won't be productive as "he lacks the depth of wisdom" but he may make some statements to earn some brownie points in Pakistan.
However, in an exclusive interview with ANI, defence expert Dhruv Katoch on Wednesday said, "Very frankly, I don't think this visit is going to be very productive. He doesn't really have that maturity and depth of wisdom to be a statesman and to sort of conduct himself with a level of maturity."
The upcoming visit of Pakistan's Foreign Minister, Bilawal Bhutto-Zardari to India to attend the Shanghai Cooperation Organisation (SCO) Foreign Ministers' meeting to be held in Goa from May 4-5 has garnered a lot of traction in the media.
As the current Chair, India will host the next Summit of the Council of Heads of State this year. The SCO Foreign Ministers' meeting is scheduled to take place in Goa on May 4-5.
Bhutto-Zardari will lead the Pakistani delegation to the meeting of SCO Foreign Ministers (CFM), according to Pakistan's Foreign Ministry. Chinese foreign minister Qin Gang and his Russian counterpart Sergey Lavrov are also likely to participate in the meeting.
Katoch further said that this is an SCO visit, so, as per the protocol only matters pertaining to SCO will be discussed.
"It will be inappropriate for Mr Bhutto to raise bilateral issues. I don't see this happening during the course of the conference. However, after the conference is over, I am quite certain that Indian journalists will interview Mr Bhutto and I think in that interview whatever Mr Bhutto has to speak — he will actually speak there, that will be designed for both the Indian and Pakistani audience. I am certain, during that interaction with the media, he is going to raise bilateral issues, especially Kashmir," he said.
Notably, Bhutto-Zardari's visit comes after the Poonch attack. On April 20, an Army vehicle passing Bhimber Gali and Poonch in the Rajouri sector was fired upon by unidentified terrorists, through grenades, which lead to the death of five soldiers.
"When we are looking at the ground situation, I think that the Indian stand is very clear now. We are not going to carry out any bilateral engagement or talks with Pakistan till such time that terrorism stops and we have to have visible proof of that terrorism, so, when India says, talks and terrorism cannot go together, we mean it. I don't think there is going to have any breakthrough just because Mr Bhutto has come and he is a young man and he is 30+ years and he is a foreign minister — any earth-shaking event is going to take place. This person, very frankly in Pakistani politics is quite inconsequential — he is coming here and making some statements to earn some brownie points in Pakistan. I think that is what will actually happen," Katoch told ANI.
He also lambasted Pakistani FM for making "derogatory" remarks at Prime Minister Narendra Modi during a press conference at the United Nations in New York in December 2022.
"The statement made by Mr Bhutto — he is a young man and he comes from a very long line of diplomats. For him to make such a statement against PM Modi — spoke of a very low calibre. He should have not done it. I think it will behove him and his country when he comes to India to apologize for that statement. I don't think he will do it, but, if he does it, I think, he can regain some stature, otherwise, he has reduced himself to a very low level by a statement which should not have been uttered by a foreign minister," said Katoch.
BJP leader from Jammu, Kavinder Gupta also stressed that terrorism and diplomacy cannot go hand-in-hand over Bhutto-Zardari's visit to India.
"India has made relations with every country through diplomacy, but Pakistan has always back-stabbed us. Many times they were taught lessons. This is a good initiative, but they have to understand. India's diplomacy today under the leadership of Prime Minister Narendra Modi, External Affairs Minister S Jaishankar has achieved a lot. Pakistan needs to learn from it, there are many things which can be sorted by talking with each other, but Pakistan is away from it. I think that such an initiative is a start, Pakistan should think over it as a way forward," Gupta told ANI.
This will be the first high-level visit in seven years when Pakistan's Foreign Affairs Advisor Sartaj Aziz visited India in December 2016. Also, Bilawal will be the first foreign minister to visit India after a gap of nearly 12 years, reported Business Recorder. In 2011, then Pakistan foreign minister Hina Rabbani Khar visited India.
Meanwhile, Captain Anil Gaur, a defence expert said that it was a "welcome step" and Pakistan finally has "mustered the courage to come to India."
"Very welcome step, finally Pakistan FM has mustered the courage to come to India because of the way he has been talking against India and PM Modi at United Nations and other forums also," Gaur told ANI.
Gaur also praised External Affairs Minister S Jaishankar and said that he is "capable and competent."
"EAM Jaishankar is capable and competent to put across to Bilawal Bhutto that what Pakistan has to do in case it wants to normalize relations with India. Without normalizing relations with India, there is no future for Pakistan also, because the entire trade that is going on now is routed to Dubai, making everything more expensive. So to get cheaper things from India, they have to mend their ways, stop exporting terrorism and all and fine-tune their own army and their attitude towards India, then only Pakistan can s. Without India's help – trade and other things Pakistan will not be able to survive. This will be put across to Bilawal Bhutto by our Foreign Minister Jaishankar," he added.
Gaur said that Pakistan is on the edge of a financial crisis and if they have good trade relations with India then they can come out of this devastating situation, but this can happen only if Pakistan stop terrorism.
Meanwhile, ex-diplomat Sudhir Devre highlighted India's prominence in the backdrop of the G20 presidency and SCO Chairship.
"India has good relations with Eurasia – Russia and 4 members of SCO have close ties with India. China has played a key role in SCO as China and Russia started this organisation. As India is neutral, it will play a significant role this time. India is bullish on the economic front, have helped many countries during the Covid-19 pandemic, India is respected worldwide," told Devre to ANI.
India will host the Shanghai Cooperation Organisation (SCO) Summit in New Delhi On July 3-4, which will be Russian President Vladimir Putin's first visit to the country since the conflict in Ukraine.
The agenda for the Summit, which is anticipated to centre on counter-terror, Afghan stability, inclusive connectivity efforts including Chabahar Port & INSTC, aside from India's extensive outreach to Eurasia, will be finalised at the SCO Foreign Ministers meeting in Goa on May 4-5 (AF)