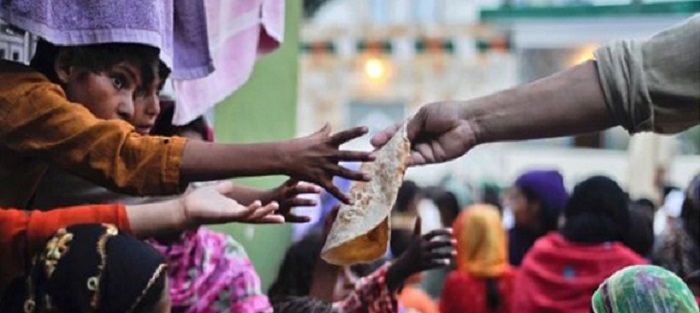 According to the latest report by the Global Hunger Index (GHI), hunger in Pakistan has increased to a dangerous level and continuous decline in purchasing power has pushed people towards starvation, resulting in Pakistan being included in the category of severely affected countries with a score of 26.1, reported Ary News. The global food agency's report revealed that the average Pakistani household is forced to spend only 50.8 per cent of their monthly income on food, while 36.9 per cent suffer from a lack of food security.
The report shows that 20.5 per cent of the population in Pakistan is facing severe food shortages, and 18 per cent of children under the age of five are malnourished, reported Ary News. According to the World Hunger Index 2022, Pakistan was ranked 99th among 121 bankrupt countries, and a continuous decline in purchasing power has pushed people towards starvation.
The report stated that almost 40 per cent of children at the age of five in Pakistan are malnourished, while 29 per cent are underweight. According to the GHI report, children aged 6 to 23 months in Pakistan are deprived of nutritionally rich food, reported Ary News.
The Global Hunger Index illustrates how much and how many people in different countries are able to access food. This index is updated every year with the latest figures, and it captures the successes and failures of hunger campaigns worldwide. The current food crisis in Pakistan is marked by an unprecedented shortage of wheat across the country that may lead the country into anarchy, reported The Pakistan Military Monitor (PMM).
The ongoing economic crisis in Pakistan is a classic example where poor citizens have been battling backbreaking inflation and food crises without any support from various custodians of power. The scarcity is translating into towering prices of the staple grain which are scaling new heights every week. According to the latest Sensitive Price Indicator (SPI) released by the Pakistan Bureau of Statistics, there was a 47.2 per cent rise in prices on a year-on-year basis for the week ending April 19, 2023.
The Pakistani media is filled with tragic stories of chaos and stampedes in markets coming from several areas covering all the provinces. As per a recent report in the prominent Pakistani newspaper 'The Express Tribune', thousands flock to the markets and spend hours every day for the subsidized flour bags which are in short supply. In social media, videos appearing almost every day are testimony to the severity of the present crisis, reported PMM.
In a horrific video shared last month by a UK-based person, Faran Jeffery, hundreds were seen hanging from a wheat flour-carrying truck with many others chasing it. Also seen was how a child attempting to get near it narrowly escaped from being run over by the vehicle. Several deaths have also been reported to have occurred due to the struggle of poor people for the humble grain. This includes deaths during stampedes in the queues at government distribution points for the poor, reported PMM. (ANI)