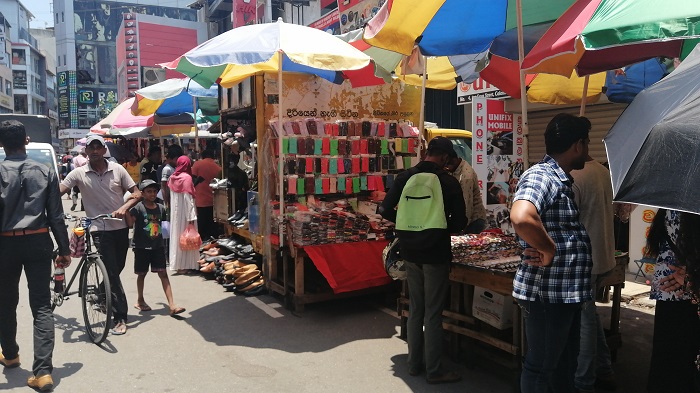 By Hasfar A Haleem
One of the most colourful, vibrant sights in Colombo is the packed streets of the Pettah market area, where the roadsides are filled with stalls selling fruit, toys, clothes and cosmetics.  Through the day and night, porters transport the goods to and fro.  These crowded streets, which are packed with potential customers, give the visitor a misleading impression of a bustling trade.  In fact, street vendors say that they are facing unprecedented hardship due to the prevailing economic crisis, along with constant worry about harassment from the authorities. We spent a day with Colombo's roadside street traders to find out the true state of affairs.
One of the first people I met was Sarveswari, who runs a flower stall in Colombo Central.  She is her family's sole breadwinner, and is finding life tough:
"Unlike in the past, doing business is very difficult at present. I fully depend on this small flower shop for the survival of my family and myself. The earnings I make are not at all enough to run my family. Having lost my husband, I am living in a rented house with three school-going children. The cost of essential commodities has skyrocketed, there are debts to be settled, electricity charges and water rates have increased. Besides all these, we have pawned jewellery in the bank which has to be redeemed and we have many other commitments. The price of a garland is Rs 200, but people are not prepared to buy one even for Rs 150".
Krishna also sells flowers and garlands.  He's an elderly man who brings in the garlands by bus each day.  "I can buy the required food items for cooking at home only with the proceeds of selling the garlands. But, nowadays, there is no income as the business is very very low," he says. 
 The stories are common from stall to stall. Traders are concerned about ever-rising costs, which have major impacts on their day-to-day family life. Furthermore, during the rainy season they find it extremely difficult to carry on their business without proper shelter and with no mechanism to protect their wares, while in summer there is no respite from the blistering heat.  Notwithstanding sun and rain the street vendors carry on their activities for the sake of their children. Idhayaraja is a fruit vendor whose wife works as a housemaid and he told me they were struggling:
"I have been doing this business in the scorching sun. I have two children and I am doing this fruit shop business after getting a loan for investment. Yet, I am running the business at a loss as the trade is very low and I'm finding it difficult to make ends meet."
Due to the massive fall in the US dollar, the cost of capital for starting a business is much higher now than in the past. This makes it difficult for traders to take out loans, and for the many traders who have existing loans, such as Idhayaraja, increased interest rates are making their loan instalments very difficult to repay. 
One particular group of traders is facing additional pressures: those who rely on imported goods.  "I earn only Rs. 1,500 per day while I have to feed five people in my family, let alone other essentials and incidentals. This amount is not enough to satisfy our hunger even. We wither in the scorching sun to earn this meagre income" said Rakuman, a small-scale toy vendor lamenting the condition of his roadside business and his financial burdens.
Rakuman is at the sharp end of the forex crisis: as he imports his toys, he is caught in the middle, having to pay more for his goods due the rising cost of import duties, but faced with the reduced ability of his customers to pay for what is seen in his case, sadly, as an inessential item.  Ironically, after a period of supply-chain shortages during Covid, there is now no shortage of goods.  Instead, there is a lack of demand from the public,, due to the high prices.  This category of businessmen is therefore facing numerous challenges. No money is left for saving these days, after meeting the daily expenses that are indispensable for survival.
As well as having to deal with rising costs of the goods they buy for onward sales, the vendors are having to deal with the same cost-of-living pressures as other Sri Lankan families.  At the same time, sales are declining. Fuel scarcity has been eliminated, but the income of the people has not increased.  According to Dr. K. Amirthalingam, Senior Professor of the Department of Economics of University of Colombo, inflation is said to have decreased from 73% to 53% but the cost of goods is still very high. 
The decline in purchasing is clear to see when you walk through Pettah bazaar: most street vending and pavement hawking is closed by about 7 o'clock in the evening. Even though the Tamil and Sinhala New Year and Ramadan Festival seasons are on, spending is down.
Mohamed Imthiyas, an Achcharu maker using a variety of local fruits who sells his product on the pavements told me:
"People do not have money. The prices of goods are beyond the purse of the people. If they had money only, they would buy things from us. Nowadays, we face many difficulties in carrying out our business as there are fewer people on the roads. All the goods are sold at exorbitant prices. With this trend in sight, it is impossible to carry on our business. Means of day-to- day income are rare; somehow we manage to run the family with whatever we have." 
We asked street vendors what they took home each day.  Most told us they made a profit of between Rs 1500 and Rs 2000 per day but that they were unable to manage their families with that income due to the rising cost of living. We also spoke to the vendors' wives.  One told us:
"If we earn Rs 2,000 rupees a day, we will not have any money left for the next day, so it is hardly enough for our family's daily survival. We cannot save anything. Unlike in the past, materials for our school-going children take much of our earnings. Besides, the prices of school materials and equipment are prohibitive with a three-fold increase, even the cost of essential food items and other essentials have skyrocketed too. The unreasonable increase of electricity charges, water rates, etc. is another burden we are unable to shoulder. In the circumstances, please tell us how we can make at least a modicum of savings for our future."  
Another common complaint from the traders is disruption by police.  Ramseen is a home appliances trader and he told me  "The business has fallen sharply these days. We are greatly affected by it.  Sometimes during our business on the pavements, the police would ask us to remove our wares and the makeshift tent. What to do? They are doing their duty. We have got to abide by the law."
This is a point of real concern for street vendors who say that, despite what politicians claim from time to time, there is no definite law pertaining to the use of pavements by hawkers.  Though I requested details of any current regulations regarding pavement vending, no official information could be obtained from the officials of the Colombo Municipal Council. 
On roads, traders are not allowed to impede traffic or pedestrian crossings so during rush hour the police clear vendors from the streets.  And, though the traders share the concerns of some protestors, marches by trade unions of every profession and trade are causing additional problems, with roadblocks and street closures by the security forces depriving them of the little business they still have.
One vendor told me a pitch rental system would make life easier as it would enable traders to operate without fear: "Since Sri Lanka's independence in 1948, roadside businesses have been carried out in the Colombo Central area. But successive governments have never cared to allocate places for their business activities."
The vendors also told me they were concerned that, unlike shopkeepers, there is no registered association for hawkers to lobby on their behalf. 
A meeting was held at the Presidential Secretariat recently (April 6,2023) with the representatives of the Colombo Thurai Traders Association and the Pavement Vendors Association (who represent traders in larger shops) to find a solution to the problems of the pavement vendors.  Sagala Ratnayake, the President's Senior Advisor on National Security and the Head of the Presidential Staff, gave some assurances during the meeting. Issuing of identity cards for the traders/ vendors was also discussed at this meeting.
Back at Sarveshwari's flower stall, she tells me about the dreams she and her husband had for their children's future.  Her husband ran the flower stall for 20 years but when he suddenly died three years ago, Sarveshwari took over the running of the business. All three children attend school but, with her rented house costing  Rs 20,000/- per month, her financial struggles are mounting. Despite her determination, this self-employed woman's dreams of living with her head held high look likely to be a mirage.