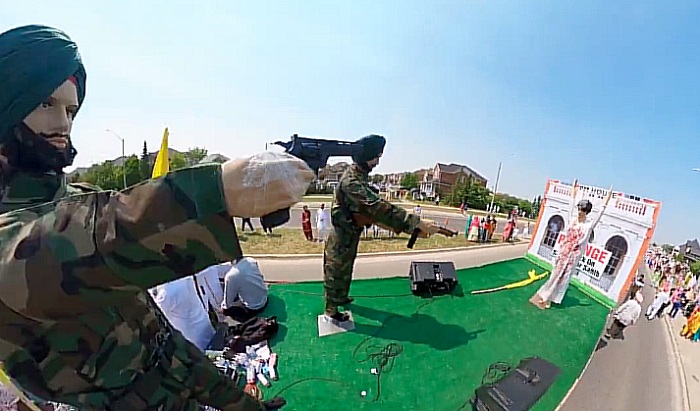 Foreign Minister Ali Sabry has slammed the Government of Canada for allowing the glorification of the murder of Former Indian Prime Minister Indira Gandhi, by Khalistani radicals.
Taking to Twitter yesterday, Sri Lanka's Foreign Minister shared video footage of India's Former Prime Minister Indira Gandhi's Murder being glorified by Khalistani radicals and terrorists publicly in Canada.
Commenting on the matter, Minister Ali Sabry said this was totally unacceptable. 
"In the name of freedom of expression and promoting diversity, no country could afford to grant sanctuaries to terrorists and secessionists," he further said.
Minister Ali Sabry warned that by allowing to glorify terrorism, Canada is misleading another generation of youth towards despair.
Indian Prime Minister Indira Gandhi was assassinated by her two bodyguards at her residence in New Delhi on 31 October 1984. She was killed in the aftermath of Operation Blue Star, an Indian military action carried out between 1 and 8 June 1984.
The operation was ordered by Indira Gandhi to remove militant religious leader Jarnail Singh Bhindranwale and his armed followers from the buildings of the Harmandir Sahib complex (aka the Golden Temple) in Amritsar, Punjab – the most sacred site in Sikhism
The Khalistan movement is a separatist movement seeking to create a homeland for Sikhs by establishing an ethnoreligious sovereign state called Khalistan in the Punjab region.
According to Indian media, video footage shared on social media shows Khalistani radicals depicting the assassination of Indian Prime Minister Indira Gandhi in a tableau in Canada's Brampton city. 
The viral video is believed to be from June 4, days before the 39th anniversary of Operation Blue Star. (NewsWire)
This is totally unacceptable. In the name of freedom of expression and promoting diversity , no country could afford to grant sanctuaries to terrorists and secessionists.
If you allow to glorify terrorism, you are misleading another generation of youth towards despair. https://t.co/GGVH6i5O08

— M U M Ali Sabry (@alisabrypc) June 7, 2023