Chief Guest, Supun Pathirage – Chairman of the Central Environment Authority pressing the button of the baling machine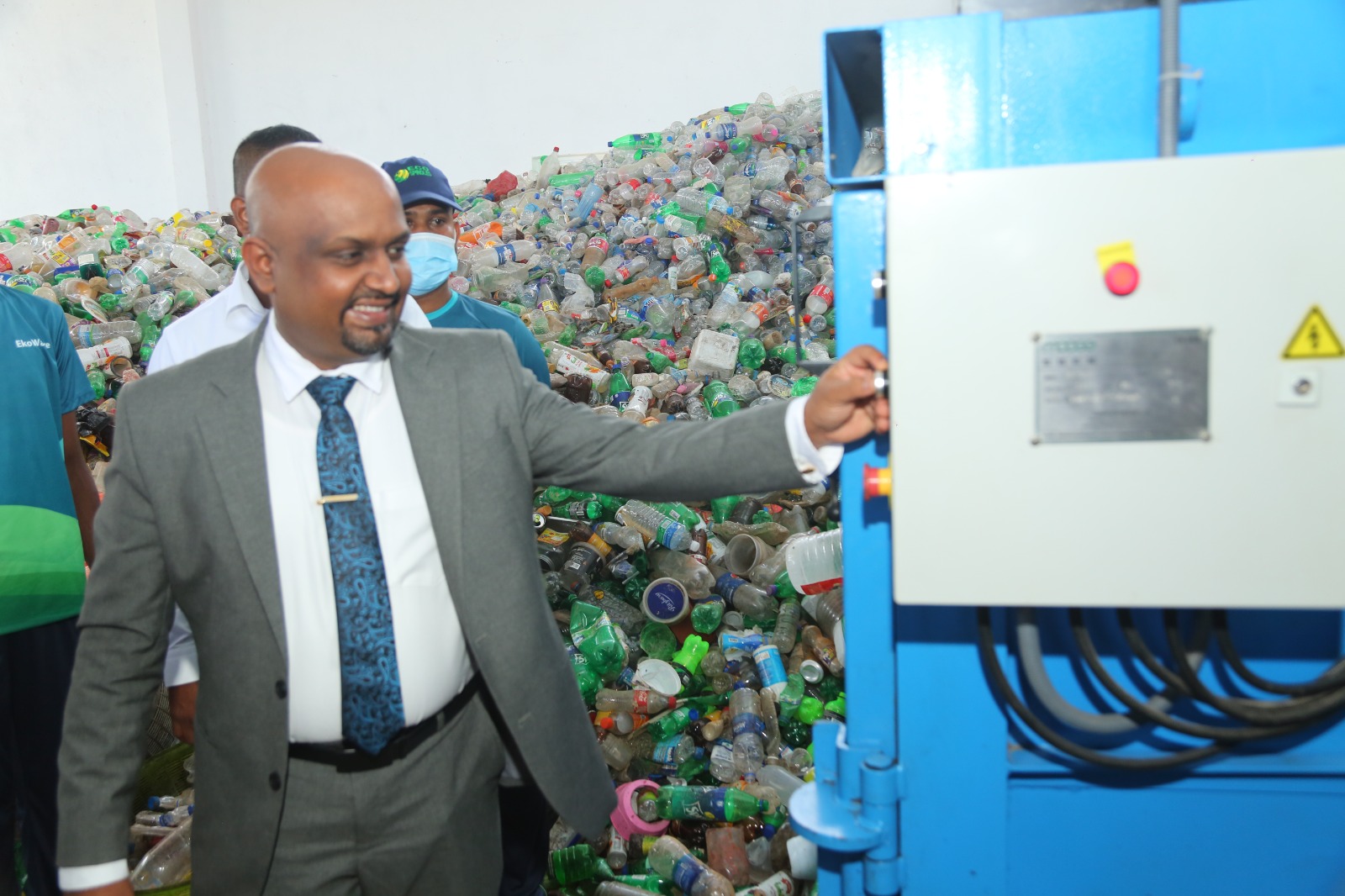 Chief Guest, Supun Pathirage – Chairman of the Central Environment Authority unveils Eko Wave Material Recovery Facility with partners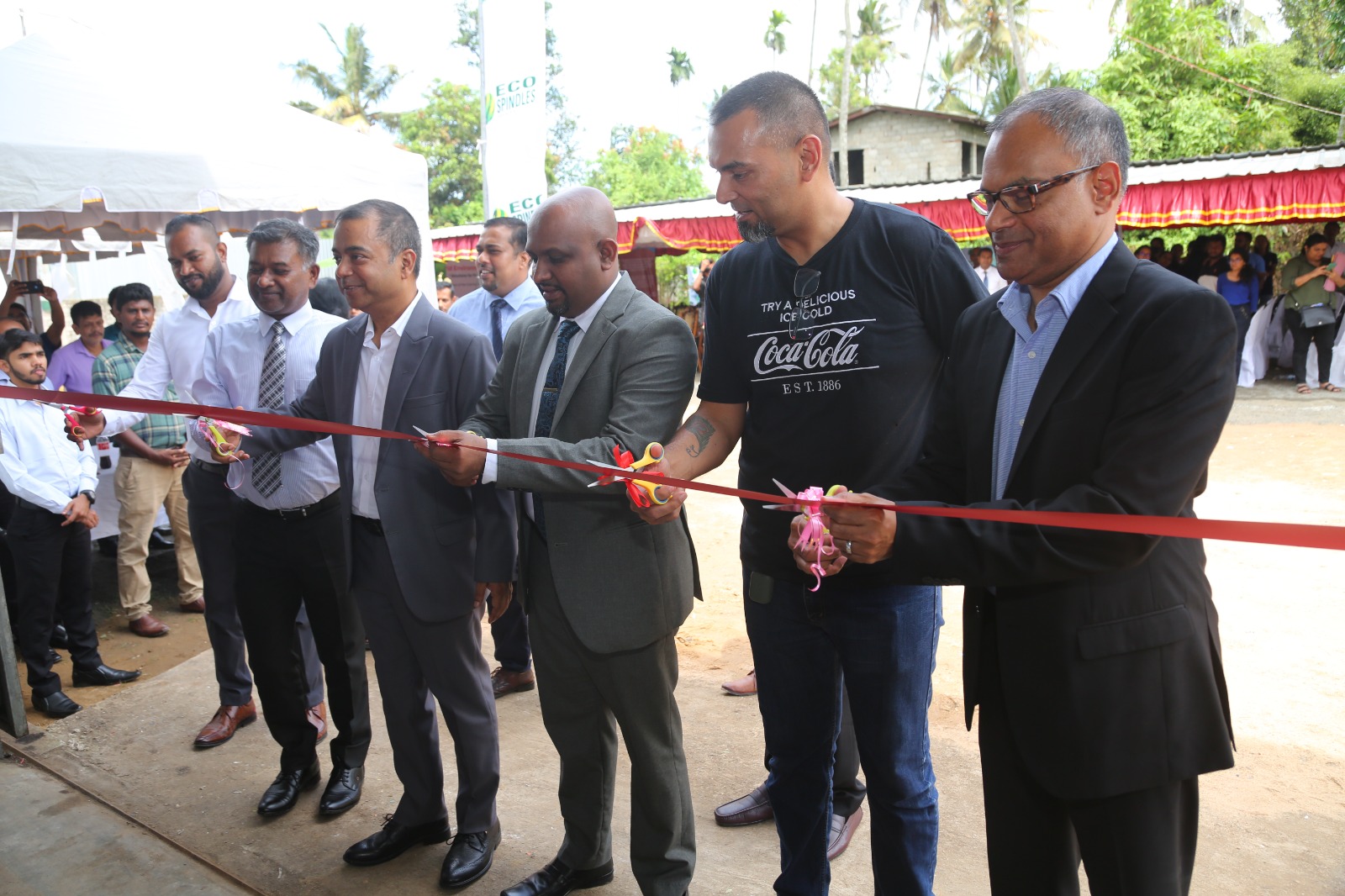 Chief Guest, Supun Pathirage – Chairman of the Central Environment Authority with partners of the Eko Wave Material Recovery Facility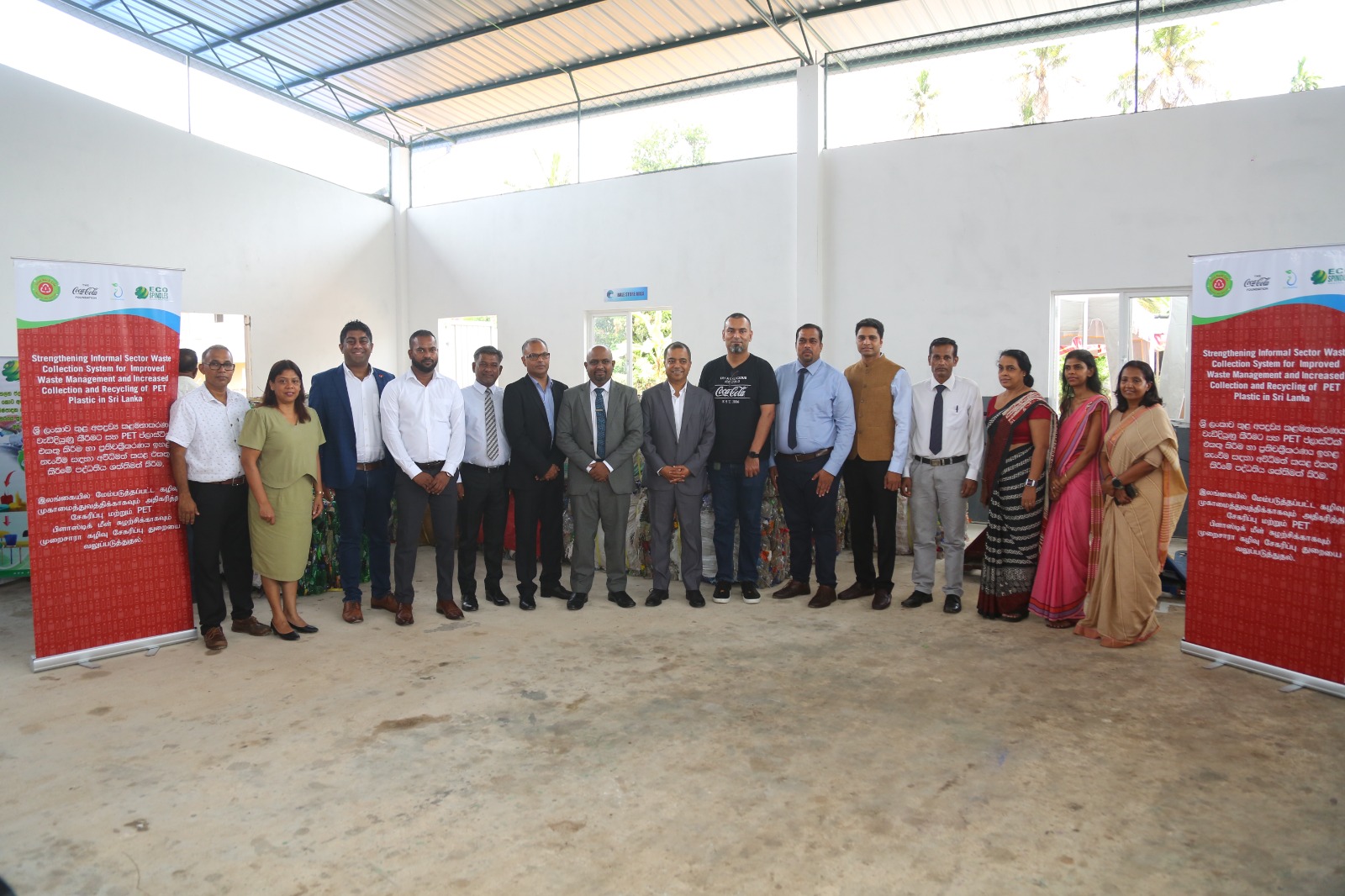 Colombo 07th June, 2023:  In honour of World Environment Day 2023, The Coca-Cola Foundation joined forces once again with Eco-Spindles and Janathakshan (GTE) to officially launch 'Eko Wave' – an advanced Material Recovery Facility (MRF) in Colombo, in the presence of the Chief Guest, Supun Pathirage – Chairman of the Central Environment Authority.
Taking decisive action in line with United Nations' theme for World Environment Day 'Solutions to Plastic Pollution', the Eko Wave MRF in Colombo showcases an unwavering dedication to environmental sustainability and offers a robust solution to local plastic waste challenges. Serving as a comprehensive response to the prevailing plastic-waste management challenges in the region, the MRF utilizes efficient technology and innovative waste processing mechanisms, setting a commendable example for responsible production and consumption.
The MRF was established with funding and support from The Coca-Cola Foundation (TCCF), the philanthropic arm of The Coca-Cola Company, and Eco Spindles, a prominent plastic recycling company in Sri Lanka. The project was implemented by Janathakshan (GTE) Ltd., a respected non-profit organization recognized for its expertise in promoting circular economy practices and advancing low-carbon development in the country. Eko Wave presents itself as a comprehensive answer to plastic waste management challenges in Colombo, with the remarkable ability to collect and process more than 20,000 kilograms of plastic waste every month.
With the highest amount of waste generation in the country being reported in the Western Province, efficient waste management becomes vital within its districts. Colombo specifically, as a prime commercial hub, produces approximately 1057.5 metric tons of waste per day with household waste being the primary contributor.
Addressing this challenge, Eko Wave will take a proactive and community-centric approach, setting itself apart by connecting with the informal waste collection network to enhance recyclable waste collection. The MRF will play a pivotal role in efficiently collecting and processing recyclable materials. As it operates as a comprehensive facility, it will utilize balers and crushers to extract maximum value from the inflow of solid waste. The facility will segregate, compress, and crush recyclables, mainly focusing on PET plastic, to transform them into compact bales and granules. These processed materials will then be sent to Eco Spindles, Sri Lanka's leading plastics recycler and manufacturer of value-added products such as high-quality monofilaments for brushes and polyester yarn for garments which are exported to over 15 countries.
Notably, Eko Wave will also spearhead extensive awareness campaigns, targeting schools and local communities, to promote responsible disposal practices and emphasize the importance of recycling, specifically on PET plastic. These initiatives have already reached 2,000+ people in Colombo through awareness programmes.
By developing the Informal Waste Collectors (IWC) network, the facility will create additional income opportunities for individuals, especially those from vulnerable communities. Over 115 collectors have been identified accordingly, and the project teams are working closely with Eko Wave to strengthen their capacity. Eko Wave also functions as a buy-back center which will provide a platform for local communities, residents, and businesses to sell their recyclable waste directly to the facility, further incentivizing responsible waste management.
"The launch of Eko Wave represents a significant milestone in our collective efforts to combat plastic pollution and promote responsible production and consumption," said Saadia Madsbjerg, President, The Coca-Cola Foundation, "Through these collaborative efforts, TCCF is not only able to spearhead plastic-waste management solution, but also address community welfare concerns as well. Our commitment lies in supporting vulnerable communities and empowering waste collectors through these facilities. Especially during the current economic crisis, we aim to create alternative livelihood opportunities, and importantly, enhance the dignity of waste workers. We thank our partners profusely for bringing this project into fruition."
"We believe that these Material Recovery Facilities are comprehensive solutions to address the pressing plastic waste issue, particularly in Colombo," said Prasantha Malimbadage – CEO of Eco Spindles Pvt. Ltd. "With a capacity to recycle over 400 tons a month, we are more than capable of supporting our shared goal of a cleaner, greener and more sustainable Sri Lanka. We are proud to support this vital initiative, which aligns with our commitment to sustainability and creating a circular economy."
Janaka Hemathilaka – CEO of Janathakshan GTE Ltd. said "This initiative goes beyond immediate benefits for project beneficiaries, extending its positive impact to the nation. Together, we are able to promote the principles of a circular economy and actively contribute to key Sustainable Development Goals (SDGs) such as Responsible Production and Consumption (SDG 12), Climate Action (SDG 13), and Life below Water (SDG 14). It also stimulates the county's economy and paves the way towards a cleaner and greener environment. It is a testament to our commitment to foster a holistic and sustainable development for a better future."
Eko Wave marks the second MRF in the country to be established under the project 'Strengthening informal sector waste collection system for improved waste management and increased collection and recycling of PET plastic in Sri Lanka', supported and funded by The Coca-Cola Foundation and Eco Spindles, in collaboration with Janathakshan. This project is taking significant steps to combat plastic pollution in Sri Lanka by establishing six MRFs nationwide. Such efforts by The Coca-Cola Foundation and its partners exemplify their commitment to environmental sustainability and their proactive approach to finding effective solutions to plastic pollution in Sri Lanka.
About The Coca-Cola Foundation
The Coca-Cola Foundation's mission is to make a difference in communities around the world where The Coca-Cola Company operates and where our employees live and work. We support transformative ideas and institutions that address complex global challenges and that leave a measurable and lasting impact. Our giving is focused on sustainable access to safe water, climate resilience and disaster risk preparedness and response, circular economy, economic empowerment, and causes impacting our hometown community. Since its inception in 1984, The Coca-Cola Foundation has awarded grants of over $1.5 billion in service of its mandate to strengthen communities across the world.