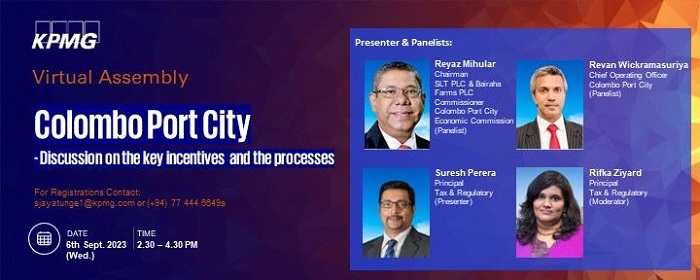 The KPMG Sri Lanka Academy has organized a Virtual Assembly on "Colombo Port City -Discussion on the key incentives and the processes" on 6th September 2023 at 3:00 PM. 
Mr. Reyaz Mihular – Chairman, SLT PLC & Bairaha Farms & Commissioner, Colombo Port City Economic Commission and Mr. Revan Wickramasuriya – Chief Operating Officer, Colombo Port City will share their insights at the panel session.  
The presentation on port city incentives will be done by Mr. Suresh Perera – Principal, Tax & Regulatory. The panel session will be moderated by Ms. Rifka Ziyard- Principal, Tax & Regulatory. 
For more details and registrations please contact Seneli on sjayatunge1@kpmg.com or 077 444 6649.