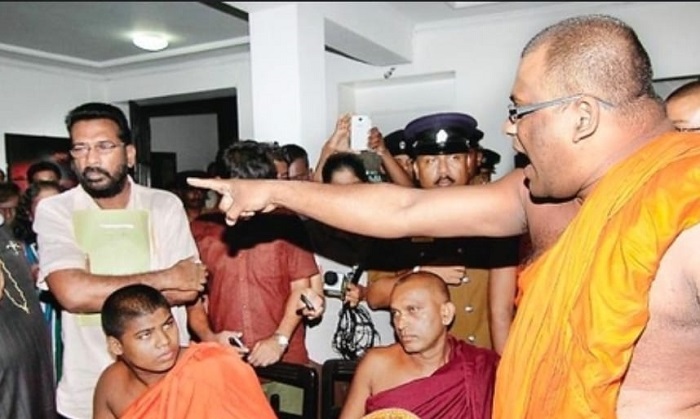 General Secretary of the Bodu Bala Sena (BBS) Ven. Galagoda Aththe Gnanasara Thera has pleaded guilty to charges in a case filed related to the obstruction of a Press Briefing held at Nippon Hotel Colombo in 2014.
According to media reports, Ven. Gnanasara Thera is among seven suspects who pleaded guilty before the Fort Magistrate's Court today.
Fort Magistrate Thilina Gamage ordered the suspects to pay compensation of Rs.300,000 to the complainant and severely warned them not to repeat such offences.
The suspects are accused of trespassing into Nippon Hotel in Colombo and obstructing a media conference organized by Jathika Bala Sena (JBS) leader Ven. Watareka Vijitha Thera in 2014.
In his complaint to the Police at the time, Ven. Vijitha Thera, alleged the group including Ven. Gnanasara Thera had stormed the hotel and threatened him, disrupting the media conference.
Ven. Galagoda Aththe Gnanasara Thera, Ven. Vitarandeniye Nanda Thera, Ven. Welimada Chandra Ratne Thera, Ven. Wellampitiye Sumana Damma Thera, Ven. Ariyawansa Sambudda Thera, Ven. Chardrananda Thera, P. Wewala and Pathiranage Gunawardena were named as the suspects in the case. (NewsWire)