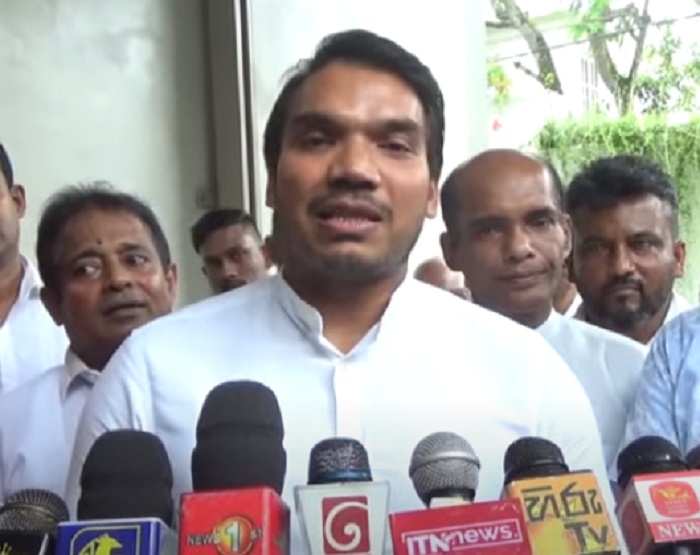 Both the Samagi Jana Balawegaya (SJB) and National Peoples Power (NPP) played a key role in Sri Lanka facing bankruptcy due to tax concessions implemented by the former government, Sri Lanka Podujana Peramuna (SLPP) MP Namal Rajapaksa alleged.
Issuing a statement, MP Rajapaksa said both parties let that budget win unanimously, adding that if the country faced bankruptcy due to tax concessions, those two also played a role in it.
MP Rajapaksa further emphasized that the responsibility for the country's economic crisis should be shouldered by the current SJB leaders who were members of the good governance government and NPP members who supported that government.
"When former President Mahinda Rajapaksa was defeated in the Presidential Election in 2015, the country's economic growth was 7%, but upon returning to power in 2020, the economic growth had dropped to 2%", according to MP Namal Rajapaksa.
Highlighting that the government, led by Gotabaya Rajapaksa had promised to reduce taxes in its election manifesto, MP Rajapaksa questioned how reducing taxes, following the given mandate, could be considered a mistake.
MP Rajapaksa pointed out the irony that academics who went to court against the tax reduction, including Value Added Tax (VAT), are protesting on the road when the current government increased taxes based on IMF recommendations.
Stating that while some individuals may be hurt by criticisms of the budget if there are mistakes in any government, the MP said he will not hesitate to point them out for the sake of the people. 
MP Rajapaksa further explained that the current crisis has arisen as former President Gotabaya Rajapaksa had remained silent on incorrect decisions, such as the use of organic fertilizers during his government. 
Emphasizing the importance of learning from mistakes, the MP stated that he would not hesitate to criticize and point out errors not only about the budget but about any decision taken by the current government. (NewsWire)