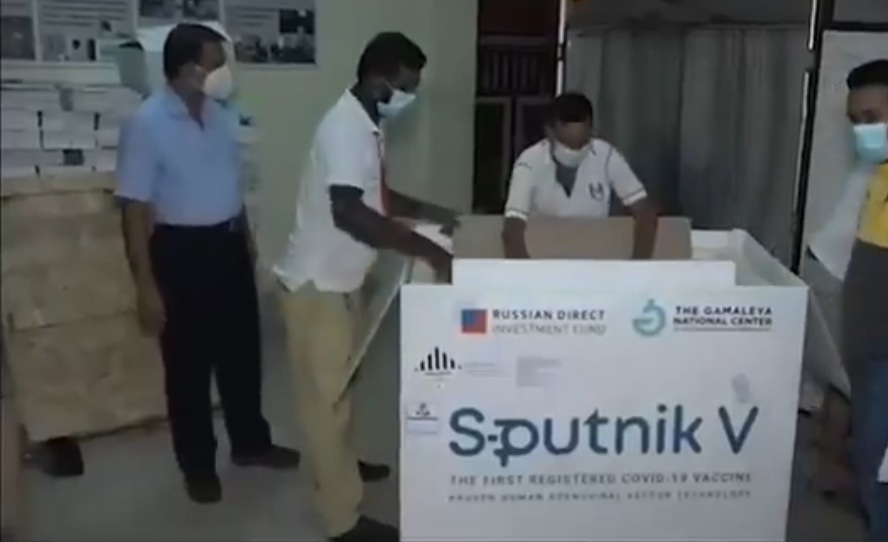 Another batch of the Russian manufactured Sputnik V coronavirus vaccine arrived in Sri Lanka today.
State Minister Channa Jayasumana said 65,000 doses of the vaccine arrived at the Bandaranaike International Airport (BIA) in Katunayake this morning.
The consignment consisted of 50,000 doses to be administered as the first dose in Kandy, and another 15,000 doses to be provided as the 2nd dose in Gothatuwa area.
This is the third vaccine consignment delivered by the Russian Government.
Earlier, Sri Lanka received 50,000 doses of the vaccine on 4th May and another 50,000 doses on 27th May.
The Sputnik V vaccines are being delivered in keeping with a purchase order placed by the State Pharmaceutical Corporation (SPC) of Sri Lanka for the vaccination drive. (NewsWire)
❗️Another batch of 65,000 doses of the #Russian🇷🇺 #SputnikV anti-#COVID19 vaccine has been delivered to #SriLanka🇱🇰 pic.twitter.com/GU6IAbjSAq

— Russian Embassy in Sri Lanka (@RusEmbSriLanka) June 11, 2021