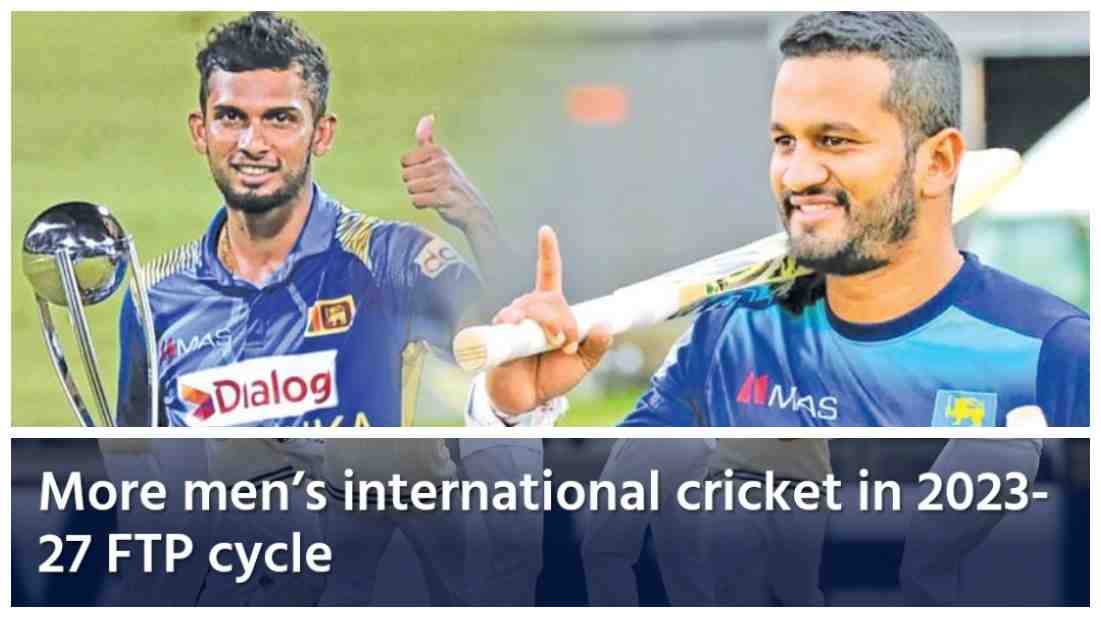 The 12 Full Members of the ICC will play more international cricket across each of the three formats in the next Future Tours Program (FTP) cycle. The FTP outlines the international cricket calendar, including ICC events and bilateral international series.
The 12 Members will play a total of 777 international matches – 173 Tests, 281 ODIs and 323 T20Is – in the 2023-2027 FTP cycle compared to the 694 in the current one.
This includes the next two cycles of the ICC Men's World Test Championship, multiple ICC events and a host of bilateral as well as tri-series action.
Sri Lanka will play at least 28 Test matches, 63 ODIs & 60 T20Is during that period.
Sri Lanka – Men 2023
January: Three ODIs & Three T20Is v India (Away)
Jan/Feb : Three ODIs v Afghanistan (Home)
March : Two Tests, Three ODIs, Three T20Is v New Zealand (Away)
April : One Test, Two ODIs vs Ireland (Home)
July : Two Tests v Pakistan (Home)
October: ODI Cricket World Cup 2023
Sri Lanka – Men 2024
January: Three ODIs & Three T20Is v Zimbabwe (Home)
February: One Test & Three T20Is v Afghanistan (Home)
March : Two Tests, Three ODIs & Three T20Is v Bangladesh (Away)
June : 2024 T20 World Cup in USA/WI
July : Three ODIs & Three T20Is v India (Home)
August: Two Tests v England (Away)
September: Two Tests v New Zealand (Home)
October:  Three ODIs & Three T20Is v West Indies (Home)
November: Three ODIs & Three T20Is v New Zealand (Home)
December : Two Tests v South Africa (Away)
Sri Lanka – Men 2025
January:  Three ODIs & Three T20Is v New Zealand (Away)
February: Two Tests v Australia (Home)
February/March : Champions Trophy (Pakistan)
July : Two Tests, Three ODIs & Three T20Is v Bangladesh (Home)
August: Three ODIs, Three T20Is v Zimbabwe (Away)
October: Three ODIs, Three T20Is v Ireland (Home)
November: Three ODIs, Three T20Is v Pakistan (Away)
Sri Lanka – Men 2026
January: Three ODIs & Three T20Is v England (Home)
February: T20 World Cup 2026 (India/SL)
March : Three ODIs, Three T20Is v Afghanistan (Away)
June : Two Tests, Three ODIs, Three T20Is v West Indies (Away)
July : Two Tests v India (Home)
September: Three ODIs, Three T20Is v England (Away)
October/December: Two Tests, Four ODIs, Three T20Is v Pakistan (Away) *ODIs Tri-Series with England
December: Three ODIs, Three T20Is v India (Away)
Sri Lanka Men : 2027
January: Two Tests, Three ODIs, Three T20Is v New Zealand (Away)
March : Two Tests v South Africa (Away)