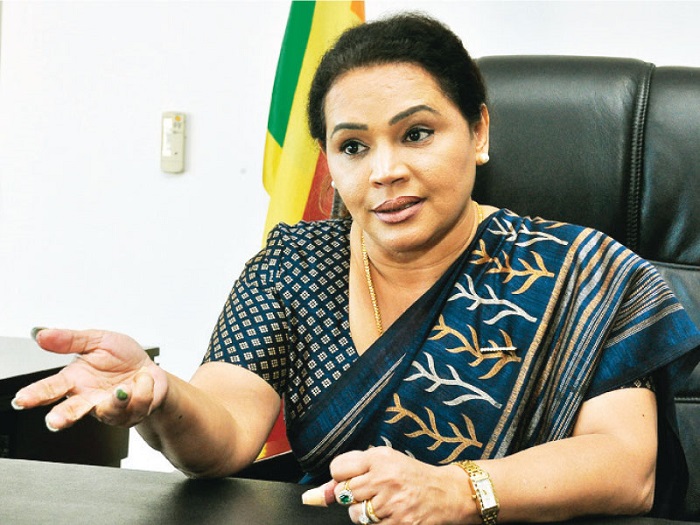 Colombo Chief Magistrate Prasanna Alwis informed the Criminal Investigations Department (CID) that it does not require a warrant to arrest State Minister of Tourism Diana Gamage if she is found to have violated the Immigration and Emigration Laws of Sri Lanka.
Addressing an open court today (09), the Colombo Chief Magistrate issued the directive after taking up for hearing the petition filed by civil activist Oshala Herath challenging the citizenship of MP Diana Gamage.
Filing the petition, Herath sought a ruling that Diana Gamage was unqualified to serve as a Member of the Sri Lankan Parliament due to her British citizenship. 
Speaking in Court today, Herath's lawyer stated that the State Minister had concealed her British citizenship and had obtained a Sri Lankan passport, adding that she had later submitted a different birth certificate and obtained a passport for official duties. 
Stating that this was a violation of Sri Lanka's Immigration and Emigration laws, the lawyer stated that MP Diana Gamage must be arrested and presented before the courts.
The lawyer representing State Minister Diana Gamage informed the court that his client refutes all allegations, pointing out that his client had renounced her British Citizenship after 2014. The lawyer further pointed out that the allegations have been made after his client had taken measures to renounce her British Citizenship. 
The Colombo Chief Magistrate thereafter questioned the CID as to whether it has been proven that the State Minister had produced fake documents to obtain a passport, if so if it was a violation of Sri Lanka's Immigration and Emigration laws, and in the event of such an offence what was the next course of action by the Police.
However, as the CID had remained silent and had not responded to the three main questions raised by the magistrate, the latter directed the CID to look into the matter. 
The Colombo Chief Magistrate thereafter, fixed the case for hearing on 02nd March 2023. (NewsWire)