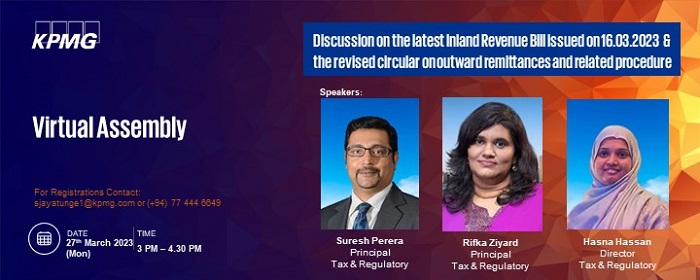 An Inland Revenue Amendment Bill to amend the Inland Revenue Act No. 24 of 2017 (Income Tax Act) was issued on 16th March 2023. The Bill contains amendments across many areas such as new exemptions, limitation of time for exemption granted in 2021, withholding of taxes, relief for penalty and interest, changes in refund mechanism, Mandatory Electronic Return filing, administrative measures in related to appeals, collection of information, recovery etc
A revised circular has been issued  dated 17th March 2023 instructing to all Licensed Commercial Banks and Authorized Dealers engaged in outward remittances and persons who make outward remittances on the tax clearance process related to withholding of taxes from outward payments. Certain revisions are introduced to the negative list. 
The KPMG Sri Lanka Academy has organized a Virtual Assembly to discuss the latest "Inland Revenue Bill issued on 16.03.2023 & the revised circular on outward remittances and related procedure dated 17th March 2023". The webinar is scheduled on the 27th of March 2023 (Monday) at 3.00 PM
This webinar will shed light on the latest changes to the Income Tax and Withholding Tax regime and the presenters will discuss on finer points that one needs to consider in understanding the impact stemming from these proposed changes.
The session will be conducted by Mr. Suresh Perera – Principal, Ms. Rifka Ziyard – Principal and Ms. Hasna Hassan – Director, Tax and Regulatory at KPMG Sri Lanka. For registrations contact Seneli at 0774446649 or sjayatunge1@kpmg.com