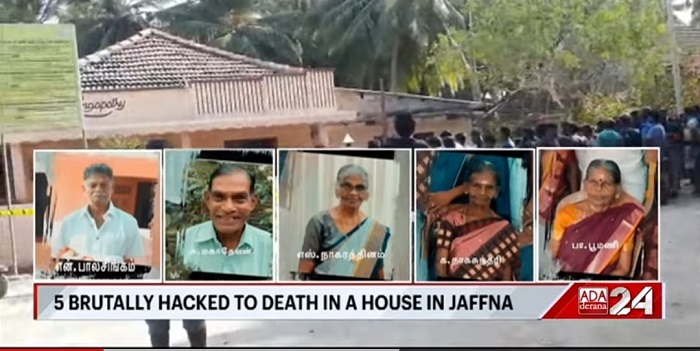 The Sri Lanka Police have uncovered further details with regard to the suspect involved in the quintuple murder reported in the Delft Islands in Jaffna on Saturday. 
Police spokesman SSP Nihal Thalduwa said preliminary investigations have revealed that the 51-year-old suspect is reported to have been living in Germany for over 20 years and had recently returned to Sri Lanka.
SSP Thalduwa further said that it has also been revealed that the suspect is a dual citizen and is likely to have been deported from Germany. 
The Police found that upon his return the suspect had been temporarily residing in the Kayts and Pungudutivu islands.
Investigations have also uncovered that the suspect had been at the house of the victims on the day of the murders, the Police spokesman added.
Five persons, including two men and three women, were found hacked to death inside a house on Delft Island in Jaffna on Saturday (22).
The victims are reported to have been attacked with sharp objects in various parts of the house, while the main suspect was arrested on Sunday night (23).
The Police recovered 03 gold chains, 02 pairs of gold bangles, 08 rings, 01 pair of earrings, 01 gold pendant, and 02 mobile phones were found from the suspect's possession. 
Further investigations are underway into the murders. (NewsWire)