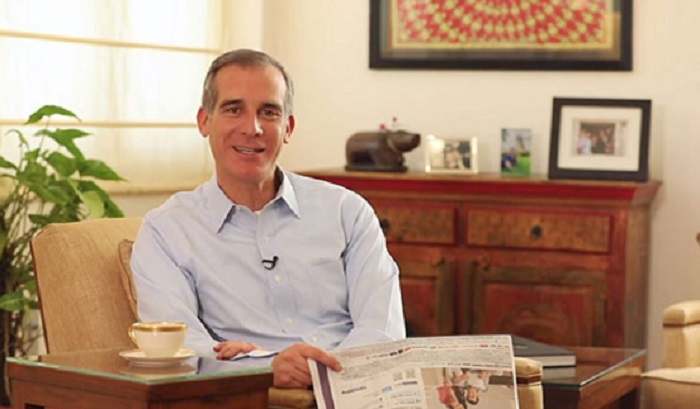 United States Ambassador to India, Eric Garcetti, on Thursday, said that New Delhi's partnership is the key to a free and prosperous Indo-Pacific and beyond.
After President Droupadi Murmu accepted the credentials, Garcetti, in a video message said, "The world's oldest and largest democracies, two nations that believe in our hearts about the power of people, have a great chapter to write together in the years ahead. India's partnership is the key to a free and prosperous Indo-Pacific and beyond."
"And I'm excited to work with you to ensure we advance this defining relationship of the 21st century. Together, we will address global health challenges, confront climate change, and deliver the next generation of critical and emerging technologies to improve the lives of our people. I couldn't be more excited to be here in India and to make this our new home and to work alongside you. Together we will show the world how the United States and India are better together.," he added.
Garcetti expressed his gratitude towards US President Joe Biden for appointing him as the 26th Ambassador to India.
Talking about himself, Garcetti said that while being Mayor, he connected with the world and the world by modernizing the infrastructure, confronting climate change, exporting Hollywood movies, and winning the Paralympic and Olympic Games, which the US will host in 2028.
"In Los Angeles, we have a thriving Indian American diaspora and deep educational, cultural, and economic ties with Indians. You know, I first came here to India when I was just 14 years old, and the India that I saw and the Indians that I met immediately captured my heart. During that trip, I learned how deeply we are connected to one another, no matter where we live, what language we speak, how much money we have, or how we worship," the US envoy said.
"Over the years, I returned to India, and as a student, I studied the language, culture, and history of this remarkable country. And as I return to India now to make it my new home for me and my family, that early understanding is an integral part of my life. So if you see me in the park or at a cricket match enjoying some chai in a movie theatre, come say hi. I can't wait to meet you. And I believe that our two countries, with the talent and energy of our peoples, can and will accomplish so much together," he added.
Earlier, Garcetti and envoys of Qatar and the Principality of Monaco on Thursday presented their credentials to President Droupadi Murmu at the Rashtrapati Bhavan.
"The President of India, Smt Droupadi Murmu accepted credentials from the Ambassadors of the United States of America, Qatar and Monaco at a ceremony held at Rashtrapati Bhavan today," a Rashtrapati Bhavan release said. (ANI)