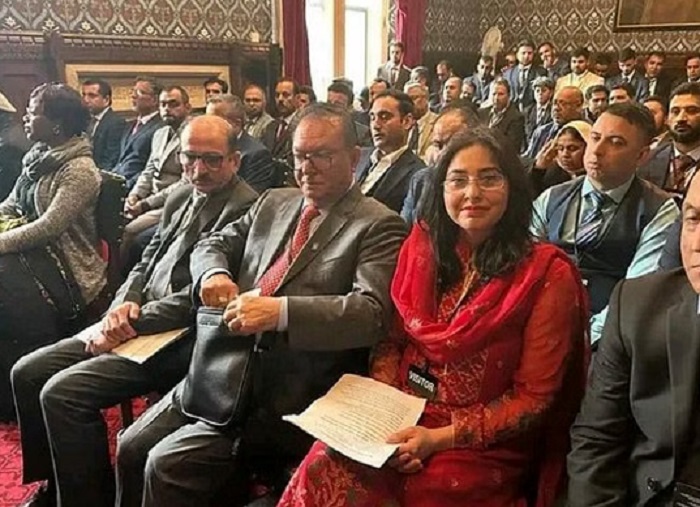 United Kashmir People's National Party (UKPNP) organised an International Conference in the Jubilee Room of the House of Commons which was attended by British Parliamentarians, human rights activists, thinkers, lawyers, journalists, authors, and political leaders with forward-looking approach on the scourge of extremism and violence.
The Conference titled "Growing Extremism and Violence in South Asia and How it will Affect Britain and South Asia" which was organized on Tuesday, unanimously agreed upon and declared several points related to security and peace in Pakistan-occupied Kashmir and South Asia.
The conference jointly pledged to strongly stand by and vote for peace, harmony and prosperity in the South Asian Region, especially for a unified Jammu and Kashmir, where people of all faiths, cultures and political views can live with dignity, respect and security.
The Conference also condemned the propagation of inequality, violence and hatred, that are premeditated, instigated and supported by the Pakistani Establishment in the erstwhile State of Jammu and Kashmir. The aim behind this gross abuse of fundamental human rights of the people is to imperil their lives and deny them the right to freedom, dignity and material prosperity.
The conference proclaimed that the Jammu and Kashmir dispute was created because of Pakistan's unprovoked and imperial attack on Jammu and Kashmir which resulted in the kidnapping and raping of our women, and the slaughtering of innocent citizens.
There is no military solution to the Jammu and Kashmir dispute, and dialogue is the only way forward, the conference announced.
The conference jointly called upon the Government of Pakistan to ensure Freedom of Speech irrespective of faith, ethnicity, language and social status. The conference claimed that Pakistan, despite being an Islamic country, persecuted religious minorities like the Shia and Qadianis.
While the former are discriminated against and subjected to existential threat as an unwanted Islamic faction in Pakistan, the latter have been arbitrarily declared as non-Muslims and berated as untouchables.
The conference also took a resolution to widen the space for peace, tolerance, harmony and respect for all.
The UKPNP called for bringing a democratic solution and reiterated that in solving the Jammu and Kashmir dispute the people of Jammu and Kashmir must be part of the peace process as a principle party. (ANI)