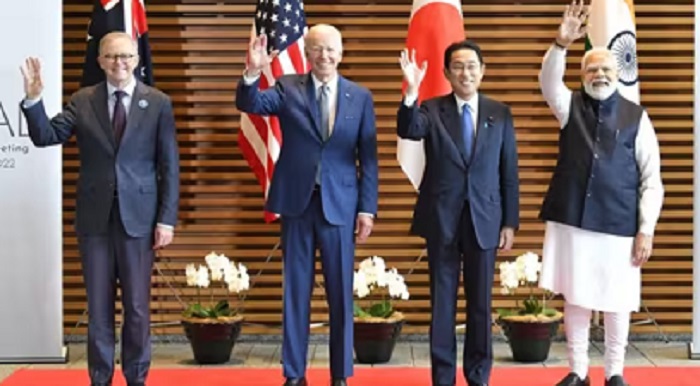 Albeit US President Joe Biden has cancelled his bilateral trip to Papua New Guinea and Sydney for Quad meeting due to debt ceiling crisis, the discussion expansion and consolidation of the security grouping is expected to take place between leaders of US, India, Japan, and Australia on the side-lines of this May 19-21 G-7 summit in Hiroshima.
While New Delhi is tight-lipped about the Quad meeting, Australian Prime Minister Anthony Albanese went on record stating that the Quad leaders will now be having the discussion in Japan after cancellation of the Sydney summit on May 24. Albanese also said that PM Narendra Modi is likely to be in Sydney next week for the bilateral program indicating that the Indian leader will also go ahead with his Papua New Guinea visit on May 22 after attending the G-7 summit in Japan.
Although the debt ceiling crisis at home has forced President Biden to cancel the PNG and Sydney leg of the visit, the Quad leaders will be talking Indo-Pacific in Hiroshima so that the quadrilateral grouping takes the next steps to ensure freedom of navigation in the South China Sea. Quad needs to send a message to ally Philippines, which has placed five navigational buoys within its exclusive economic zone to assert sovereignty over the disputed Spratly Islands in South China Sea. The Ferdinand Marcos Junior government took this step-in pursuance of closer ties with US and set up five navigational buoys from May 10-12 in five areas within a 322-kilometer radius, including the Whitsun Reef, where the Chinese Navy has displayed its muscle in 2021.
In this context, no Quad discussion will send negative signals in the Indo-Pacific and particularly in Papua New Guinea, where the US was planning to initiate a security agreement to rival Chinese maritime security agreement with next door Solomon Islands in the Far Pacific. No dialogue will also have an impact on Taiwan, which is facing the brunt of Chinese military muscle over the past years with PLA aggression mounting by the day.
With the Chief of Defence Staff, principal military advisors of Quad countries, meeting in California on May 16 and charting out a security response to Chinese belligerence in the Indo-Pacific, the Quad leaders may find time in Hiroshima to come out with a statement laying the path ahead on maritime security and resilient global supply chains. (Hindustan Times)