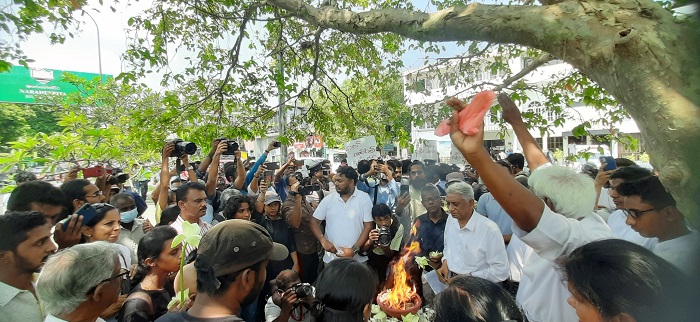 The riot Police have been deployed in Colombo as attempts have been made to disrupt an event organized to commemorate the Mullivaikkal Remembrance Day.
The Mullivaikkal Remembrance Day is a remembrance day observed to remember those who died in the final stages of the Sri Lankan Civil War.
A commemoration event had been organized in Borella, Colombo today during which a group of persons were seen protesting holding banners with slogans stating 'No to LTTE commemorations'.
As a result of the protests, the riot Police have been deployed near the Borella Roundabout to contain the situation. (NewsWire)
Police and Ravana Balaya disrupted the Mullivaikkal memorial event at Borella Cemetery roundabout this morning. The state is so afraid of its citizens memorialising the dead that they (the state) are responsible for. #lka #RememberMay2009 #Mullivaikkal #18May pic.twitter.com/aPC5xYuvWX

— Sarah Kellapatha (@saararrr) May 18, 2023