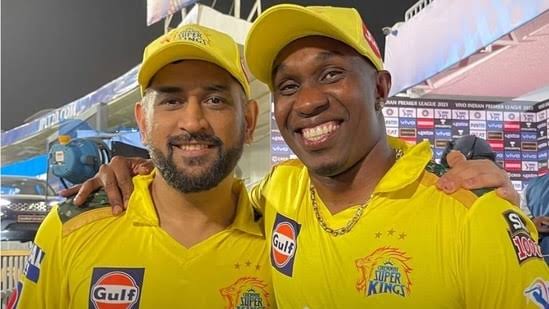 Dwayne Bravo is "100 percent" sure that MS Dhoni will make a return to Chennai Super Kings as a player in the 2024 edition of IPL.
The Chennai Super Kings reached their tenth Indian Premier League final on Tuesday night, defeating defending champions Gujarat Titans in the first qualifier in Chennai. The Hardik Pandya-led side, that had finished at the top of the table, will have another shot at reaching the final, however; they will meet the winners of the eliminator game between Mumbai Indians and Lucknow Super Giants.
Tuesday also mark Mahendra Singh Dhoni's final appearance in Chennai in the 2023 season; with speculations over his CSK future rife, the skipper was asked to confirm whether he will return to the franchise in the 2024 edition. While Dhoni didn't confirm on his return, he insisted that he has ample time to take a decision on his CSK career.
"Frankly, it takes a heavy toll. I have been out of home for literally four months," Dhoni said at the post-match presentation after winning the last game of the season at Chepauk.
"I will always come to CSK. I have been out of home from January, been practicing since March, so we will see," he added.
"January 31 was when I got out of the house, finished my work, and started practicing from 2nd or 3rd of March. It takes a lot, but I have ample time to decide. I have 8-9 months to decide. Why take that headache now. I have ample time to decide. The auction is in December," the 41-year-old said.
Dhoni's former CSK teammate and the side's bowling coach Dwayne Bravo, however, has seemingly confirmed that Dhoni would return as player in the next edition. In the post-match interview with broadcasters Star Sports, when anchor Mayanti Langer asked Bravo on whether Dhoni will be seen in the coveted yellow jersey, Bravo said, "100 percent."
"100 percent. Especially, with the Impact Player rule. It will keep prolonging his career," Bravo said, much to the delight of Matthew Hayden and Krishnamachari Srikkanth, who were standing next to Bravo during the interview.
"He bats really deep. I think the likes of Ajinkya Rahane, (Shivam) Dube… these guys make a huge difference. You don't require much from MS. But he has the ability to keep his calm when the team is under pressure," Bravo further said. (Hindustan Times)