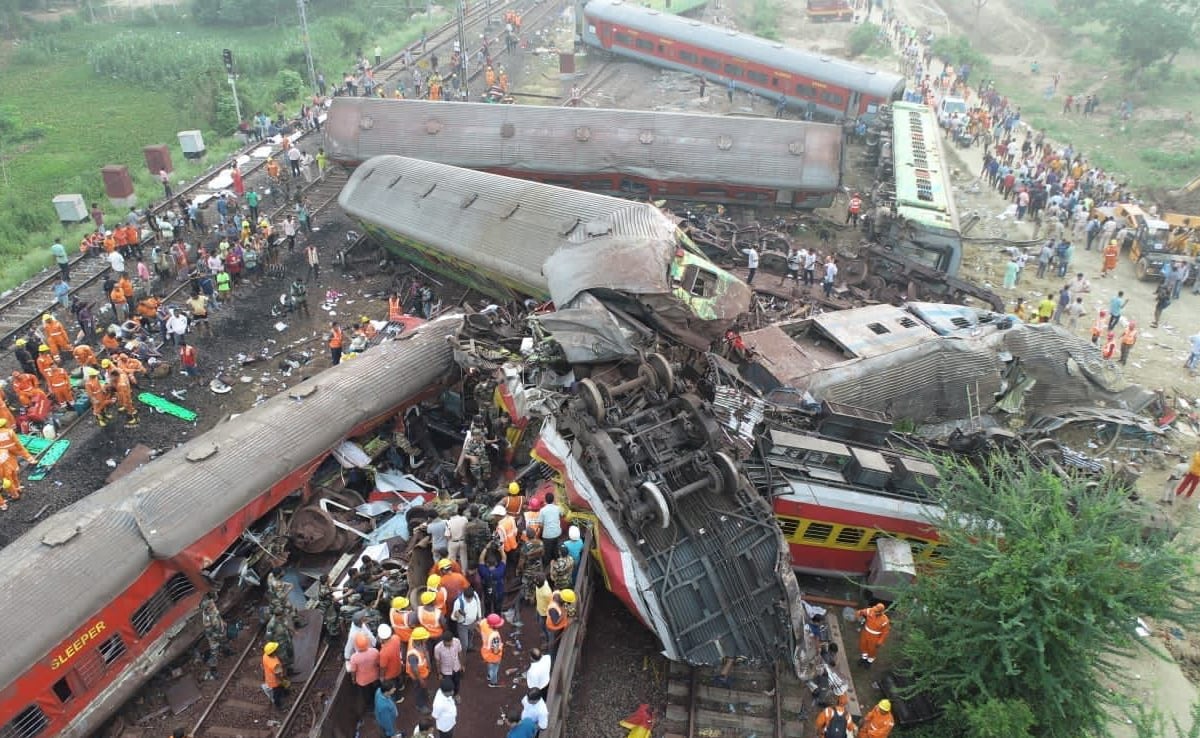 The death toll from the collision of two Indian passenger trains in Odisha state has surged to 288 and more than 850 are injured, a state government official told AFP on Saturday, making the rail accident the country's deadliest in more than two decades.
The accident on Friday in Odisha state's Balasore district – India's deadliest rail incident in more than a decade – also left an estimated 900 people injured, Pradeep Jena, the state's top civil servant, said on Saturday.
More than 200 ambulances had been called to the scene of the accident and 100 additional doctors, on top of 80 already there, had been mobilised to get the wounded to hospital and care for those still at the scene.
Video footage showed rescuers climbing up one of the mangled trains to find survivors, while passengers called for help and sobbed next to the wreckage.
"I was there at the site and I can see blood, broken limbs and people dying around me," a witness told the Reuters news agency by phone.
The collision occurred at about 7pm local time (13:30 GMT) on Friday when the Howrah Superfast Express, running from Bengaluru to Howrah, West Bengal, collided with the Coromandel Express, which runs from Kolkata to Chennai. Authorities have provided conflicting accounts on which train derailed first to become entangled with the other and have yet to make any statements about possible causes.
An extensive search-and-rescue operation has been mounted, involving hundreds of fire department personnel, police officers and sniffer dogs. National Disaster Response Force teams were also at the site.
On Friday, hundreds of young people lined up outside a government hospital in Odisha's Soro to donate blood.
"I am personally indebted and grateful to all the volunteers who've donated blood for a noble cause," Jena wrote in a tweet.
Jena described it as a "violent and tragic accident involving three trains – two passenger trains and one goods train".
The cause of the accident was being investigated, said Amitabh Sharma, a spokesperson for the Indian Railways. The details of the accident were not immediately clear, nor was the sequence of events.
There was no official confirmation of the total number of passengers on the trains.
Odisha's Chief Minister Naveen Patnaik, who is expected to visit the area on Saturday, said the priority was "removing the living to the hospitals. That's our first concern – to look after the living".
One survivor narrated his nightmare as he was jolted awake when the carriage he was sleeping in overturned.
"My sleep broke and 10-15 people fell on top of me," he told reporters, as he sat on the ground in the dark, steps away from the crash site. "I hurt my hand and neck … I saw someone had lost their hand, someone had lost their leg … I got out of there and since then I have been sitting here."
Indian Prime Minister Narendra Modi said that rescue operations were under way and "all possible assistance" was being given to those affected.
Railway Minister Ashwini Vaishnaw, who was rushing to the site of the crash, tweeted: "Will take all hands required for the rescue ops."
Vaishnaw also announced compensation of about one million rupees ($12,000) to the families of those killed, $2,400 for those who had suffered "grievous" injuries, and $600 for people with "minor" injuries
Several hundred accidents occur every year on India's railways, with most of them blamed on human error or outdated signalling equipment.
More than 12 million people ride 14,000 trains across India every day, travelling on 64,000km (40,000 miles) of track. (AFP/Aljazeera)
WATCH :