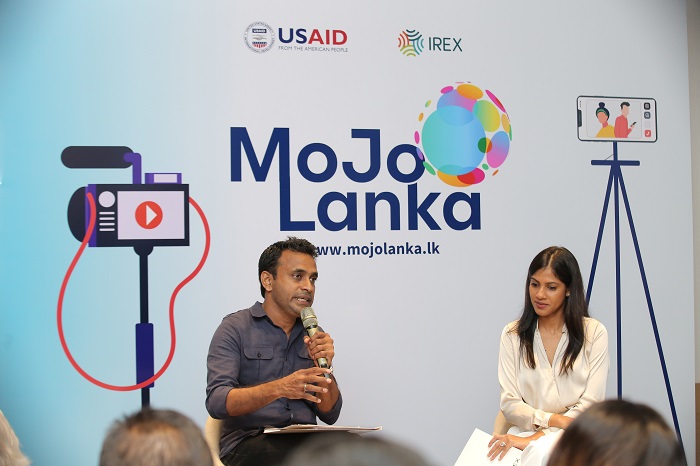 The United States Agency for International Development (USAID) and the International Research and Exchanges Board (IREX) are pleased to announce the MoJo Lanka festival, a two-day event celebrating the power of mobile journalism and digital storytelling.
The festival will take place on June 24-25 at the Marriott Courtyard Hotel in Colombo, Sri Lanka.
MoJo Lanka will provide a dynamic platform for journalists, storytellers, and content creators to explore the rapidly evolving landscape of mobile journalism. The festival will feature a series of panel discussions with a mix of national and international experts on key topics, including the powerful impact of citizen journalism, strategies to combat fake news, and techniques for growing an audience for digital content.
The festival is honored to host MoJo legend and #MoJoFest founder, Glen Mulcahy, as the keynote speaker. Mulcahy, whose work has contributed significantly to the global expansion of mobile journalism, will inspire attendees with his expert insights. U.S. Ambassador to Sri Lanka Julie Chung will provide remarks. Master classes by local and international experts will also be offered, providing participants with the chance to learn about the nuances of MoJo storytelling.
Industry giants such as David Hayward, the editor of the first BBC newsroom to be staffed exclusively with video journalists, will join other esteemed industry professionals to discuss the increasing significance of mobile reporting. Award-winning mobile journalist and producer, K.C Saranga will deliver talks on shooting the perfect story.
"Mobile journalism is the biggest revolution in news. With a smartphone, anybody can assume the role of a cameraman, editor, producer, and publisher of instant news. We support this initiative to mitigate the growth of misinformation and disinformation that can damage the culture of good journalism. The United States is a steadfast supporter of journalistic integrity, a key pillar of every democracy and especially Sri Lanka's democracy which boasts a long, proud, and resilient history. This is a stance we have maintained for the 75 years of close partnership between our two countries,", said Gabriel Grau, USAID Mission Director for Sri Lanka and Maldives.
The USAID-supported Media Empowerment for a Democratic Sri Lanka (MEND) initiative has been a catalyst in promoting mobile journalism in Sri Lanka. The festival is a concrete manifestation of this, providing a platform for both budding and established content creators to network, share experiences, and showcase their work. 
"MoJo Lanka is more than a festival," said Jean MacKenzie, Chief of Party of the USAID-funded MEND program. "It signals a growing movement aimed at revolutionizing the way stories are told and heard in Sri Lanka. By leveraging the power of mobile technology and the vast possibilities for content creation offered by today's cyber world, we are bringing fresh perspectives and new voices to the media landscape." 
The festival promises to be a transformative event that will not only highlight the best of Sri Lanka's journalistic talent but also inspire a new wave of digital storytelling in the country.
For more information about MoJo Lanka, visit our website – https://mojolanka.lk/.
This project is made possible by the support of the American people, through USAID.