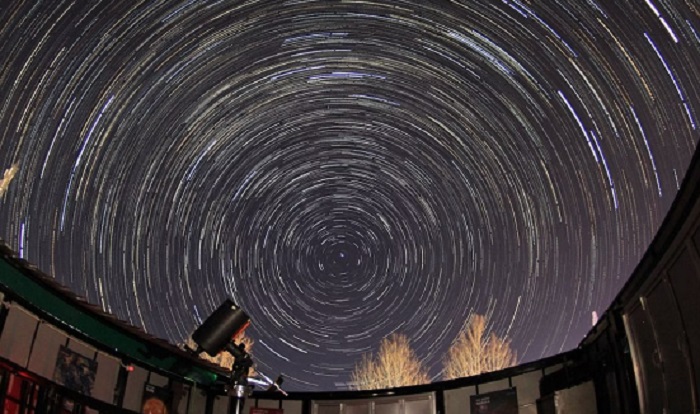 At dusk every day, the Starscapes observatory in Mukteshwar, Uttarakhand, comes to life. The heavy, retractable metal roof is first pulled shut to allow eyes to adjust to the darkness, and then opened, revealing the night sky in all its sudden and ethereal glory. Jupiter and its four Galilean moons, Saturn with its majestic rings, phases of Venus, surface features of the moon, the Andromeda galaxy, and distant nebulae are brought closer to home through the motorised telescope that tracks the stars.
"It was a memorable experience watching the stars and planets in the freezing cold as the guides pointed their green lasers. We could see the stars disappearing and newer ones appearing. It's very cliché, but it really makes you realise how small you are in the universe," said Rohit Katiyar, 39-year-old founder of a fintech startup who was visiting Mukteshwar with his friends.
Starscapes is one of the 15 or so private observatories that have sprung up in the last three to five years, catering to astrotourists—children, teenagers, young adults, parents, and grandparents who are eager to go beyond what they've learned from textbooks, NASA images, and YouTube explainers and actually understand the stars.
Astrotourism has taken off to become a thriving industry. Indians are now travelling to remote locations in Uttarakhand, Himachal Pradesh, Ladakh, the Andamans, and the interiors of the countryside where light pollution is minimal, all in pursuit of witnessing the mesmerising night sky. This trend is not limited to private firms; amateur astronomy groups, astrophotographers, and star-party enthusiasts are also actively participating in stargazing activities. In turn, astrotourism hotspots are witnessing a hyperlocal economic boom, with the emergence of restaurants, campsites and homestays to meet the needs of these tourists.
With large cities and skies unpolluted by lights, the Himalayan state of Uttarakhand stands out as the most popular destination for astrotourism in India. It is already home to one of India's largest scientific observatories — Devasthal — the Aryabhatta Research Institute of Observational Sciences (ARIES) observatory. Starscapes, too, has established observatories in two other locations in Uttarakhand — Bhimtal and Kausani, along with a temporary camp in Benital.
Now, the government wants to capitalise on the interest in dark skies and develop the state into an astrotourism hub, starting with plans to market the picturesque Benital as an 'astro village'.
"We aim to instil a deep sense of pride within the local community, and also economically empower our youth, enabling them to engage in astrotourism activities and advocate for Benital as a premier dark sky destination. The involvement of the local community in preserving the pristine nature of the place plays a big role in developing this hamlet as a dark sky location," said Himanshu Khurana, district magistrate of Chamoli.
Other identified sites to bring up observatories include Abbott Mount, Pithoragarh, Jadung (under the Vibrant Villages programme), and Takula (in Nainital).
"What is happening here suddenly is the opposite of how it started," said 51-year-old co-founder of Starspaces, Ramashish Ray. "In the early days, people would chance upon telescopes when they would visit the town as tourists. Today, especially since the pandemic, people are booking homestays and hotels just to visit the telescope, for which we are extremely grateful!"
But the slowly diminishing availability of dark skies and increasing light pollution can nip this nascent industry in the bud.
A perfect location
At the Mukteshwar observatory, another telescope looks up at the sun during the day. Children from a Delhi school, who are camping in the wild nearby, crawl out of their tents and congregate in groups in a large clearing.
Some launch their own DIY rockets while others line up to look through Starscapes' solar-filtered telescope at flares and spots on the sun.
As a feed from the telescope connected to a projector lights up, everyone cheers at the sight of the six or seven large sunspots and a nearly equal number of protruding solar prominences, which appeared like a flick of a paintbrush around the orange sun. Paul Savio (37), co-founder and CEO of Starscapes, is as excited as the children.
"This is the very first time I have ever seen solar prominences through a telescope," he said.
About 2,100 m (7,500 ft) above sea level, Mukteshwar makes for a near-perfect location for stargazing — the light pollution is low, the population is small, and the night sky is spectacular against the backdrop of the endlessly cascading Himalayan ranges. Around 30 or so stairs, spread out unevenly over a path that winds through an apricot orchard peppered with wild daisies, lead to the main building. The observatory itself, which has equipment worth about Rs 6 lakh, is located on the terrace of the Starscapes building, which is seemingly perched on stilts. In the middle is the telescope and above it is the all-covering retractable roof.
At peak season, which is the month of May, and then October-November, around 4,000 tourists visit. The observatory is typically shut during snowy winters. For Rs 300 during the day and Rs 500 at night, visitors get a guided session through the telescopes, with detailed explanations.
Savio and Ray had initially set up an observatory in 2017 at Kausani as a pilot project while still working full-time in the telecom retail sector. They have since tied up with hotel and resort chains across the country: their telescopes with star guides are present at select locations of Club Mahindra resorts and at the St. Regis hotels across India.
The Mukteshwar observatory has a store below that sells astronomy and physics paraphernalia targeted at kids, such as telescopes and binoculars, NASA and ISRO spacecraft models, material for basic physics experiments, and the company's own DIY rockets. It also hosts astro-camps where children learn to build rockets and conduct science experiments.
Savio explained that although they've been in the business since 2017, it was after the pandemic that interest in astronomy saw a surge.
"A big trend we and many others have observed is that, since covid, many youngsters have gone from bigger towns to their smaller hometowns—due to layoffs, new responsibilities at home, or health. So, providing a job in a company that could open doors at a national level is quite a boon," he said.
Electrical engineer Sonal Asgotraa who established Astrostays, which organises astrotourism trips to Pangong, Ladakh, in 2019, observed a similar trend. She tied up with a veteran in Himalayan expeditions to offer stargazing combined with a scenic and serene homestay experience. While two full-time employees (and more if necessary) are on the ground as star and tour guides, the homesteaders deal with the "back-end" in terms of hospitality and bookings.
"The objective is to look at tourism from the lens of community, and integrate that community into tourism," said Asgotraa. (The Print)