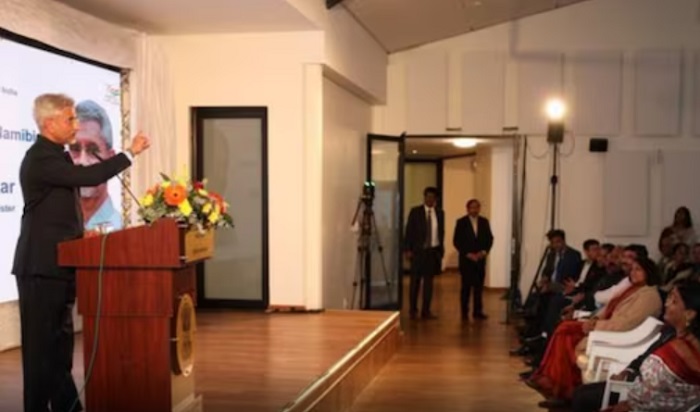 "The rise of India is unstoppable," said External Affairs Minister (EAM) S Jaishankar on Sunday, as he hailed the ongoing transformation in the country under the government of Prime Minister Narendra Modi.
Jaishankar made these remarks in Windhoek, Namibia, where he arrived after concluding the BRICS Foreign Minister's Summit in South Africa.
During the visit, EAM will call on the top leadership of the country and also meet with other ministers of the government.
He will also co-chair the inaugural Session of the Joint Commission Meeting with the Namibian Deputy Prime Minister/Foreign Minister Netumbo Nandi-Ndaitwah.
Addressing the Indian community here on Sunday, the Jaishankar expressed grief over the lives lost in the Odisha train tragedy back home in the Balasore district. "We are physically present here, but our thoughts are focused on the incident," he said.
The external affairs minister said that several global leaders expressed solidarity with India, showing how the world stands with the country.
"When as foreign minister I go out in the world, especially in Africa and Latin America and other parts of Asia, I cannot tell you how much goodwill we have," the minister said.
Citing India's outreach during the Covid-19 pandemic, he said there were very few countries that stepped forward. He also emphasized that, unlike others, India looks at the requirements, priorities, and needs of other countries.
While referring to PM Modi's 2018 Africa visit, Jaishankar quoted him as saying, "We (India) are here (in Africa) but we are different from others who have come. The difference is we are here to listen to you. To ask you what are your requirements. And whatever we do will be in response to your priorities."
"When I today look at the India-Africa relations, the big change I see is that we (India) are seen as a responsible partner," he added.
Jaishankar underlined the Indian diaspora gets the benefit of the country's image abroad. "But equally, India also gets benefits from the diaspora's image in foreign countries."
Drawing from his experiences as a diplomat, Jaishankar said it is in many ways India is now a much more capable country, a much more confident country, and that way more "recognized around the world."
The minister said that India is moving in the right direction and is conscious that there are a lot of challenges abroad.
"…With strong relationships and with good, proud Indians contributing abroad, and with growth at home — we are very clear, the rise of India is unstoppable," he added. (News18)