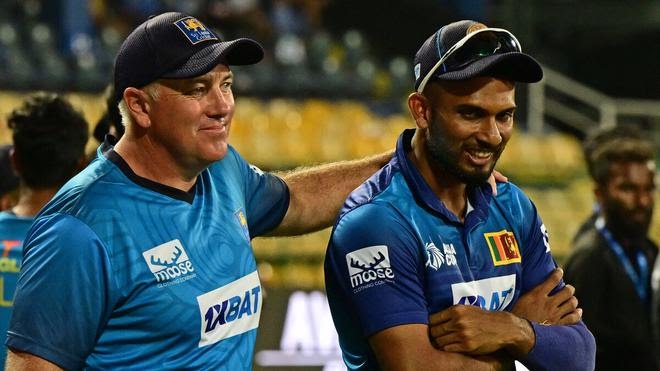 Sri Lanka coach Chris Silverwood believes Skipper Dasun Shanaka is capable of being a destructive batsman and needs to train harder to get back into form.
Speaking to reporters after the team's Asia Cup defeat yesterday, Silverwood said it was essential to work on making Dasun Shanaka more confident and ensure he continues to work hard and train hard.
"Hopefully we can turn this around. There is no other thing. We just need to keep working harder and try to get that confidence in him," he said.
Silverwood pointed out that apart from his batting, Dasun Shanaka has been a useful bowler in the Asia Cup series.
"For me, he is one score away from flying again. Obviously, it needs some hard work to be done here as well," he added.
Sri Lanka's coach also emphasised that there is more to being a team's skipper than only scoring runs.
"Dasun is very good at being a captain. He has earned the respect of everyone in the dressing room. He understands the players and shows them a lot of love and support as well. And that love and support is returned to him as well," he said.
Silverwood said the team management is making sure to be supportive of him and help him work out to make the necessary improvements.
"He is not alone in there. He has a lot of support in the dressing room," the Sri Lanka coach added. (NewsWire)