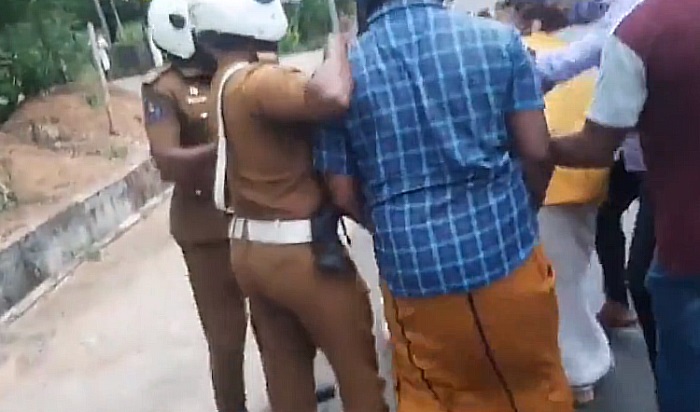 Tamil National Alliance (TNA) MP M. A. Sumanthiran has called on the authorities to initiate action against the perpetrators who had physically assaulted Tamil National People's Front (TNPF) Parliamentarian Selvarajah Kajendran in Trincomalee on Sunday (17).
Taking to 'X', MP Sumanthiran condemned the assault which had taken place in the presence of Police officers. 
Stating that the suspects can be identified in the video footage shared of the attack, he called on the Inspector General of Police (IGP) to take necessary action in this regard. 
MP Sumanthiran also called out President Ranil Wickremesinghe, Minister of Public Security Tiran Alles, and Minister of Foreign Affairs Ali Sabry over the attack, stating "now put your #reconciliation rhetoric into action."
The TNA Parliamentarians remarks come after video footage was shared on social media of the physical attack on MP Selvarajah Kajendran by a mob in the presence of Police officers. 
MP Selvarajah Kajendran himself had taken to 'X' to confirm the attack. 
It is reported that the mob had attacked MP Selvarajah Kajendran for having participated in a memorial event related to the Liberation Tigers of Tamil Eelam (LTTE). (NewsWire)
We strongly condemn this brazen assault on @skajendren, an #MP in the presence of the #Police. The assailants can easily be identified. #IGP must immediately take action. @TiranAlles @RW_UNP @alisabrypc now put your #reconciliation rhetoric into action! https://t.co/HXe52TRJDE

— M A Sumanthiran (@MASumanthiran) September 17, 2023