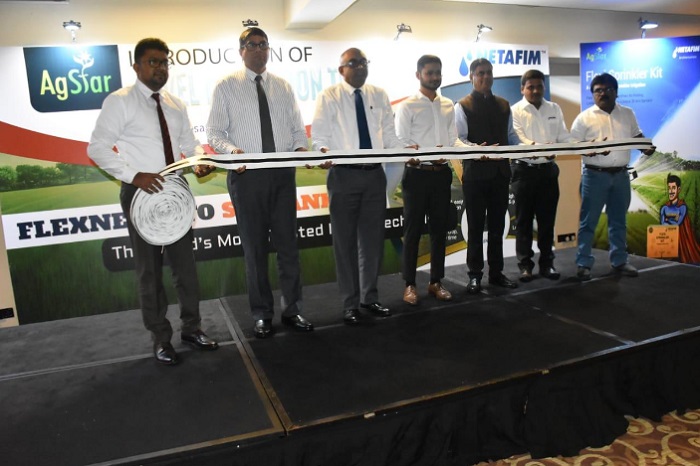 The newly inked AgStar tie-up with NETAFIM is a strategic partnership, geared to benefit crop cultivators, smallholder farmers, commercial growers, and regional plantations. 
AgStar is the leading fertilizer, crop care, seed and agri-tech service provider in Sri Lanka. As a pioneer agri input supplier, AgStar has now partnered with worldrenowned—NETAFIM, an Israeli pioneer now accredited with the world's largest micro irrigation solutions – such as drip, sprinkler and fertigation. 
NETAFIM – is a part of Orbia, a business community tackling complex challenges such as reducing world hunger—Bound by a common purpose to simplify and simply advance Life. Their customized irrigation equipment for drippers, dripper-lines, sprinklers and micro-emitters helps grow more with less. 
Associated with more than 2 million farmers globally, NETAFIM has provided irrigation solutions to farmers having 200 Hectares to 0.2 Hectares of arable land. 
Without ever having to turn a valve, you can grow higher, and get better yields every season – no mater crop, climate pattern, or soil type. The precise application of water and nutrients to the plant at the right time and place and in small measured doses allows it to grow with optimal growing conditions. This is a unique and sustainable approach to agriculture. 
Over the past two decades NETAFIM has strategically invested in agronomy and training capabilities in Sri Lanka, which sets it apart from other manufacturers. This has enabled NETAFIM operations to evolve a product portfolio especially suited for small and marginal farmers. Having more than 100 patents for its irrigation products including the FLEXNET, serve to ensure right quality and affordability for the farmer. 
AgStar has an intrinsic understanding of farmer needs, agri input requirements, and how bottlenecks impede progress on a day-to-day basis. Furthermore, the presence of a massive distribution network activates in providing agri input solutions right to the farmer's doorstep. Making it unnecessary for farmers to travel long distances to access inputs. 
The new NETAFIM innovation is FLEXNET Pipes—a specialized drip-andsprinkler irrigation-solution, which has positioned NETAFIM as a Global Market Leader, and a technology governed by affordable solutions and a reliable aftersales service. 
As a member of the LOLC group, the NETAFIM – AgStar collaboration is backed by local good standing, with many years of agri-input marketing experience, a strong dealer network, technology-oriented staff and localized bases of farmer-grower communities.
"AgStar from inception has underpinned its commitment to bring world class products to Sri Lankan Farmers. 
"This is another historical milestone in AgStar's 21-year journey with crop growers of Sri Lanka. Introduction of NETAFIM irrigation technology solutions will save growers money, time, and labor—usually overspent on irrigating water over large tracts of cultivable land. The patented technology of FLEXNET Pipes and its mobility will ease the arduous task of irrigation for farmers," said Indika Gunawardhana, Chairman – AgStar PLC. 
"AgStar Agri Tech provides world's most modern technologies to Sri Lankan farming communities and proudly presents NETAFIM micro-irrigation solutions today – on the theme of — farming simplified. NETAFIM brings convenience and ease to drip irrigation as never before. The flexible properties of the material help farmers to install their drip irrigation systems at low cost and high efficiency. By this new age irrigation experience, we hope to uplift livelihoods and local agrarian practice. NETAFIM presents tailormade products with value for money for every crop cultivation. 
Our trained agriculture specialists do extension work directly with the farming community and show how to fulfill water and plant nutrition requirements – nothing short of a precise science, to simply farming and reap high productivity in each of the crop sectors," said Danushka De Zoysa, General Manager – Head of Agri Technology, AgStar PLC. 
"At NETAFIM, we work on our core principle of "Advancing the life". We are a firm believer in tech for impact. Our partnership with AgStar will ensure that small and marginal farmers in Sri Lanka can grow more food with less (agri inputs, water and fertilizer). This will eventually realize farmer productivity and income along with high food security for the country," said Amit Maheshwari, Head of Business Development (SAARC Nations) – NETAFIM.