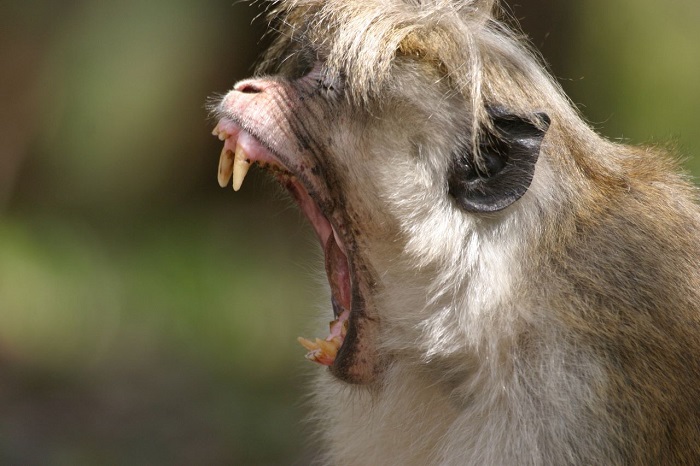 There is a great demand from other foreign nations for Sri Lankan toque macaque monkeys, Minister of Agriculture Mahinda Amaraweera informed Parliament today.
Addressing the Parliament, the Minister said as the matter related to a similar request from a Chinese firm had gained great exposure in international media, requests have come from many other countries as well on the possibility of exporting monkeys for their zoos.
"As the request from the Chinese firm ended in turmoil and a court case, the other foreign firms have been requested to make an official request via their respective Embassies in Sri Lanka for this purpose," Minister Amaraweera said.
Commenting on the issue surrounding the proposal to export Sri Lankan toque macaque monkeys to China, the Minister explained that the request was made by a private Chinese firm that manages nearly 10,000 zoos in China
"They requested 100,000 monkeys, and the request was also for the immediate exportation of 2,000 monkeys within a month. Several discussions were conducted in this regard. The final discussion saw the representation of Wildlife Department officials and the Chinese firm," he said.
Minister Amaraweera further said that during the meeting, the Chinese firm was instructed to make a request via the Chinese Embassy in Sri Lanka, to make it an official request, to which the former had agreed. 
"We conducted our private inquiries into the Chinese firm and if they own zoos, and the demand for monkeys, which was confirmed. However, during this process objections were raised by many groups, including environmentalists and politicians, tarnishing the reputation of China," he said.
The minister pointed out that the Chinese Embassy in Sri Lanka was forced to announce at the time that it had not been informed of any such proposal, as discussions were still ongoing and due to public pressure on the subject.
"I had personally requested the Chinese Embassy to inquire into this Chinese firm and present a report to the Agriculture Ministry. We are yet to receive a response to our written request," he added.
Minister Amaraweera also revealed that amidst all of this, environmentalists had filed a case in court, due to which all measures pertaining to the export of Sri Lankan toque macaque monkeys to China have been temporarily halted. 
"There is great destruction to crops due to these monkeys, to the extent of 200 million coconut per year, and with several farmers facing difficulties. There is no objection from the public, but only environmental organizations. It is essential to deal with crop-destroying animals," he emphasized.
The Agriculture Minister further pointed out that his ministry had only attempted to get rid of the monkeys without killing them, but the matter had been blown out of proportion. 
His remarks were made in response to a question raised on the matter by Opposition MP Niroshan Perera in Parliament today (Oct 05). (NewsWire)