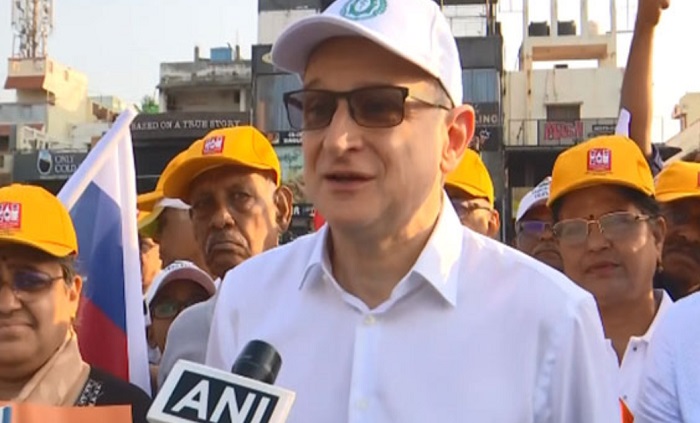 Oleg Nikolayevich Avdeev, Russian Consul General to South India, on Saturday organised an India-Russia friendship walkathon saying that the event "shows how strong our friendship is."
"Diplomatic relations between the two countries started in 1947, even before India formally attained independence. Every year we mark this event–the anniversary of this event with different functions. For a few years, it's walkathon, this is the second time we organised it. This is a very symbolic event which…our friendship, which shows how strong is our friendship, it will remain forever and will go from strength to strength," the Russian Consul General said.
The India-Russia friendship walkathon is dedicated to the 76th anniversary of diplomatic relations between Russia and India and was held at Besant Nagar Elliots beach road in Chennai. At the walkathon, people were holding Indian and Russian flags in their hands.
"Today, a cycling rally celebrating the 76th anniversary of #RussiaIndia diplomatic relations took place. The event was organized by the Russian Embassy together with the Confederation of Indian Cyclists. Hindi-Rusi bhai-bhai!" tweeted the Russian Embassy in India.
Speaking about Indian medical students, Avdeev said, "All students are welcome to go to Russia for studies. Every year we see an increase in the number of students going there for medical studies. All condition is created for the students and most of the universities offer education in the English language which is convenient for students. They don't have to spend one year to learn the language, but in any case, they learn the Russian language which is a bonus, so they get a medical education and also get proficiency in the Russian language which increases their future prospects — it gets wider."
Meanwhile, Ukraine's First Deputy Foreign Minister Emine Dzhaparova conveyed to India during her recent visit that the Indian medical students, who had returned to New Delhi following Russia's invasion of Ukraine will be allowed to take a key examination from India.
According to the official release of the Ministry of External Affairs, Emine Dzhaparova held talks with the Indian side on several issues. Regarding the Indian medical students, the Deputy FM mentioned that Ukraine will allow foreign medical students to take the Unified State Qualification Exam in their country of domicile.
The Russian Consul General also said that trade between the two countries is "growing exponentially."
"Trade has been growing for the past year — growing exponentially. India had always good relations with Russia – trade and economy, for many years we had a Ruble-Rupee basis for our foreign trade. Now, again we are switching to national currencies in our trade. It speaks volumes about our cooperation. I think we will witness a growing volume of trade in the coming years," he said.
Avdeev also spoke on Kudankulam Nuclear Power Plant, the largest nuclear power station in India, situated in Kudankulam in the Tirunelveli district of the southern Indian state of Tamil Nadu.
"Kudankulam is the biggest Russian-Indian project, actually, it is a flagship costing billions of dollars. Two of the blocks are already functioning, two are in an advanced stage of construction and two more constructions has started last year in the remaining blocks. It has been going progressively. When it will be completed, all six blocks in the state of Tamil Nadu, South India, there will be no power shortage and no problem of electricity. This is a huge project and it will solve all electricity problems and the economy of South India, particularly Tamil Nadu will be growing, reaching the target of the trillion-dollar economy by the year 2030," he said.
Speaking on the tourism prospects between Russia and India, Avdeev said that South India has become the hub of Russian tourists due to "many attractions."
"The flow of tourists to India is growing. We registered a growing number of tourists. Last year we had a Russian-Indian fair – tourist and travel fair in Trivandrum (Thiruvananthapuram), that was a good starting point for new prospects in tourism exchange between the two countries and this year another (second) fair of travel and tourism is also going to be held in Trivandrum later this year and it will give a fillip to the trade exchange between the two countries. Many tourists are coming to South India because there are many attractions here, Russian tourists are discovering South India," said the Russian Consul General. (ANI)