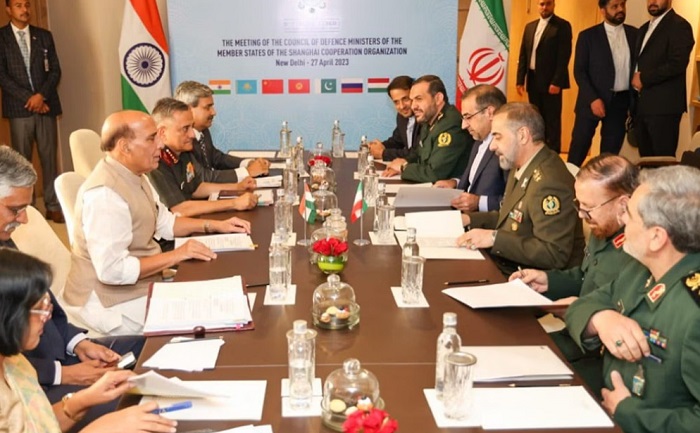 Defence minister Rajnath Singh and his Iranian counterpart Brigadier General Mohammad Reza Gharaei Ashtiyani Thursday reviewed the progress of the key International North-South Transport Corridor (INSTC) — a 7,200 km-long multi-mode transport project to facilitate movement of freight along Afghanistan, Armenia, Azerbaijan, Russia, Central Asia and Europe, besides the two countries.
Both India and Iran have backed the project, which seeks to open up a new trade corridor between said countries. Russia, Iran and India had in 2002 signed the agreement for the NSTC project of which the three are founding member states.
This project, along with bilateral defence cooperation, came up for discussion in the bilateral meeting held between the two leaders in New Delhi, ahead of the Shanghai Cooperation Organisation (SCO) defence ministers' meeting.
A statement by the Ministry of Defence (MoD) said both leaders exchanged views on regional security issues, including peace and stability in Afghanistan.
It added that the International NSTC aims to ease logistic problems in Afghanistan and other countries in central Asia.
"Both the leaders emphasised on the age-old cultural, linguistic and civilizational ties between the two countries, including people-to-people connect," read the statement.
Sources in the defence and security establishment said NSTC has received strong support from India.
Incidentally, the first India-bound Russian cargo — sent by train for the first time using the INSTC — reached Iran last year, having covered around 3,800 km through Kazakhstan and Turkmenistan after which it was sent over to India by sea.
India has been pushing for increased regional connectivity, pursuant to which it is developing the Chabahar port with Iran.
New Delhi has proposed to include the port in the framework of the INSTC.
Located in the Sistan-Balochistan province on energy-rich Iran's southern coast, the Chabahar port is being increasingly seen as central to connectivity to central Asia.
In February this year, during his State of the Nation Address to the Federal Assembly, Russian President Vladimir Putin had said that Moscow would expand promising international economic connections and build new supply corridors amid crippling sanctions imposed by the US-led West in the wake of the invasion of Ukraine.
"We will develop the ports of the Black Sea and the Sea of Azov, we will particularly focus on the North-South International Corridor," Putin had said, noting that the project would open up new routes for business cooperation with India, Iran and Pakistan as well as countries in western Asia. (The Print)